New night of violence in Paris suburbs after death of black man in police custody (PHOTOS, VIDEO)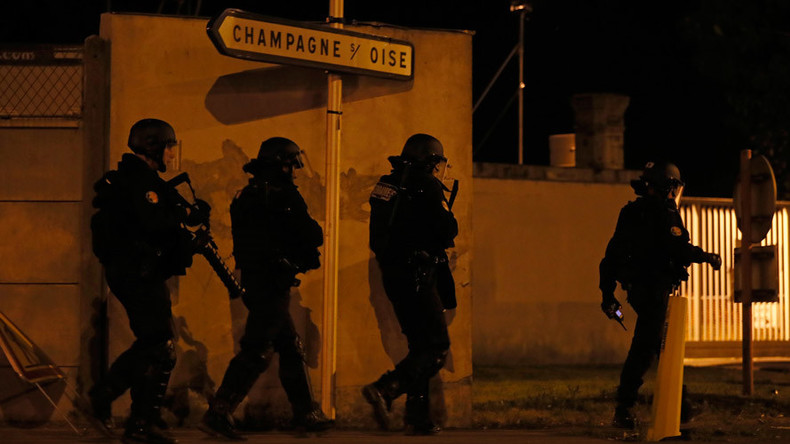 At least 10 people have been arrested in a new night of violence over the death of a 24-year-old black man in police custody. Clashes between police and demonstrators left four officers injured and several vehicles ablaze.
The rallies took place in the Persan, Bruyeres-sur-Oise and Beaumont-sur-Oise communes in Val-d'Oise department, in the north of the capital.
The protesters were throwing handmade projectiles and shells at police, according to AFP. Four police officers were slightly injured during the confrontation.
Earlier on Friday at least 2,000 people marched in Beaumont-sur-Oise, local La Gazette du Val d'Oise newspaper reported.
The protesters were heard shouting "No justice, no peace" and "Truth and justice for Adama". Others carried placards saying "We do not forget, we will not forgive".
A 24-year-old man, named by the media as Adama Traoré, was arrested by police over an extortion case. He died on Tuesday afternoon while in police custody.
Later on Thursday, local prosecutor Yves Jannier said that the autopsy revealed that Traoré died from a "very serious infection" and that his body showed no traces of violence.
However, friends and family of Traoré claim he was beaten by police and said they will seek justice.
"The infection that Adama Traore may have been suffering from does not explain the causes of his death," said the family's lawyer Karim Achoui, as cited by AFP.
Friday night was the fourth consecutive night of clashes in the Val d'Oise area. Previous nights resulted in dozens of arrests. Dozens of vehicles and trash bins were also set ablaze.
The violence came as the French parliament voted to extend the ongoing state of emergency for another six months, until the end of January 2017.
France has been on high alert since the fatal attack in Nice on July 14. At least 84 people were killed when a truck plowed through a crowd during Bastille Day celebrations.
The powers deriving from a law adopted in 1955 offer the government a number of exceptional measures in the event of a threat to national security. Under the new extension, French authorities have been given the power to make house arrests without a court order, as well as conduct searches without court authorization.