IMF chief Lagarde to stand trial in €400mn payout case - court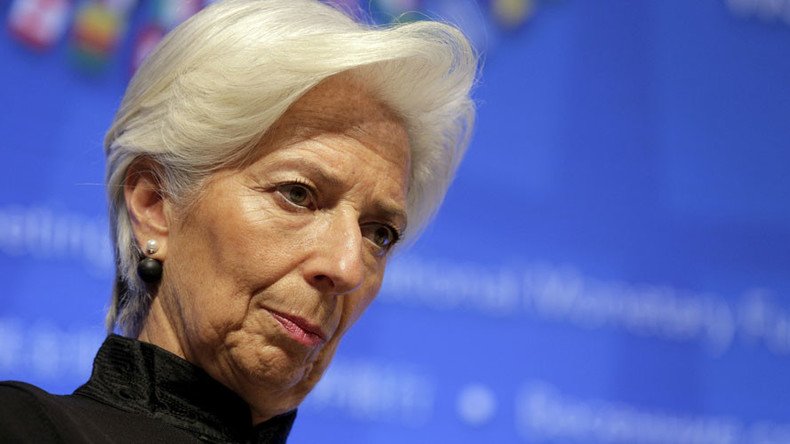 IMF chief Christine Lagarde must stand trial for her role in a €400 million payout case while she was French finance minister back in 2008, France's highest appeals court has ruled.
Lagarde is accused of "negligence" which "resulted in a misuse of public funds by a third party," the Cour de Cassation, one of France's courts of last resort, said in a statement on Friday.
The IMF board, in the meantime, said the organization is confident that Lagarde is able to carry out her duties effectively following the ruling.
News that the IMF chief may face a negligence trial in France had been circulating in the media for several years.
Bernard Tapie, a former owner of Marseilles football club, was awarded €400 million ($440 million) compensation in a lawsuit against the French bank Credit Lyonnais, which he accused of undervaluing his stake in multinational sportswear company Adidas. Lagarde, who was former President Nicolas Sarkozy's finance minister at the time, sent the case to arbitration and ratified the payout.
Tapie, who along with his business interests was also a politician, was a key shareholder in Adidas.
In search of funds in 1993, he began to look for buyers of his stake, which he eventually sold to Credit Lyonnais for 2 billion francs.
A few months later, the bank – which then belonged to the state – resold the assets to businessman Robert Louis-Dreyfus for twice the price. Tapie accused Credit Lyonnais of fraud and demanded compensation for lost profits, which was eventually paid out in 2007.
In 2007, then-Finance Minister Lagarde intervened in the process and appointed a special committee to resolve the issue. The committee eventually ruled in favor of Tapie and decided to pay him about €400 million.
In 2013, Tapie was placed under formal investigation for organized fraud. The scandal threatened to expose an alleged corrupt system at the highest level in the country during Sarkozy's presidency.
The same year, French authorities searched Lagarde's home over the probe. She has been under investigation since 2011, but has denied any wrongdoing.
In March 2014, after the third investigation into the case, the IMF chief said she had "always acted in the interest of the country and in accordance with the law."
She confirmed she faced "negligence" charges in a multi-million-euro fraud case in August 2014.
However, Lagarde's lawyer said that he is convinced that the trial will show that the IMF head is innocent, Reuters reported.
You can share this story on social media: