Heightened security at Jerusalem gay pride parade 1yr after stabbing attacks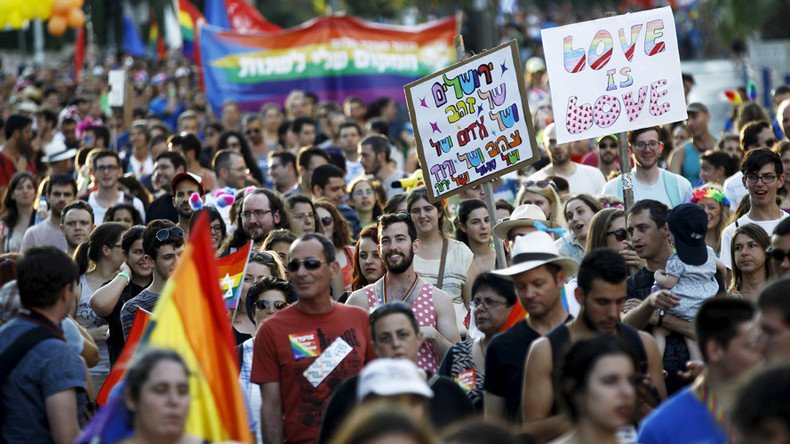 Security has been heightened in Jerusalem for the city's gay pride parade, with an anti-gay protest set to kick off in the same location. It comes one year after a teen was killed at the event. RT's Paula Slier is broadcasting live from the city center.
Twelve people have been arrested on suspicion of trying to disrupt the 15th annual gay pride parade, Channel 2 reporter Yaron Avraham tweeted, citing a police spokesperson.
Hundreds of additional Israeli police have been deployed to the city for the march, with a total of 1,000 officers expected to be on duty, AFP reported.
All marchers are being inspected before joining the parade, and carrying a weapon of any kind is prohibited.
A rival demonstration is expected to take place, increasing tensions surrounding the event which saw 16-year-old girl Shira Banki killed and five others stabbed by an ultra-Orthodox Jew last year.
Several religious-Zionist activists have said they will attend the parade in protest, along with a number of religious people who have announced their participation on social media, Haaretz reported.
Two Israeli rabbis also published a letter opposing the Thursday event, calling it a "parade of abomination."
Meanwhile, Yishai Shlissel - the attacker at last year's parade - has had additional restrictions placed on him in prison, on suspicion that he was planning another attack for Thursday, Haaretz reported. Shlissel is serving a life sentence behind bars.
His brother Michael was arrested on Wednesday, and other family members were detained and ordered to stay out of Jerusalem over concern that they would attack marchers.
The family's lawyer, Itamar Ben-Gvir, said such behavior constitutes "abuse just because they are relatives of Yishai Schlissel."
The action was also slammed by the Association for Civil Rights in Israel, which said that several activists were also warned to stay away, which infringed on their freedom of expression and right to protest.
The Thursday march is being held in Banki's honor, and her parents have urged people to take part in the event.
On Monday, Israeli President Reuven Rivlin said Banki "was murdered for the right of every woman and man to express themselves and their sexuality freely," adding that with her murder, "beauty and innocence were slain on the altar of hatred," The Times of Israel reported.
Last year's gay pride march attracted around 5,000 people, and organizers are expecting a higher turnout this year. Although Jerusalem has held a gay pride parade every year since 2002, the annual event did not see protests until 2006.
You can share this story on social media: