'Long history of interventions going wrong': Beijing reacts to US plans to stay in South China Sea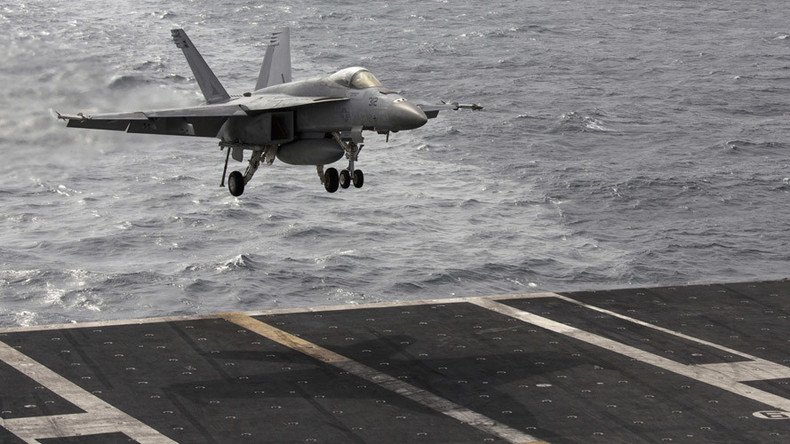 Washington's announcement it will continue its operations in the South China Sea has drawn a sharp response from China. Beijing has warned such "intervention" may not be a good idea, naming conflicts in the Middle East as examples.
"Western countries have a long history of failing to establish orderly rule over parts of the world. The Middle East is a classic example," Chinese state news agency Xinhua said on Wednesday, adding that "[t]heir intervention has led to chaos in Syria, Iraq and Libya." Saying that countries outside the region might only cause more problems in the dispute, Beijing has warned them to stay out of the issue, which it says "should be left to the countries of East and Southeast Asia."
The dispute over the South China Sea, which includes the Spratly and the Paracel Islands, involves rival territorial claims from China, the Philippines, Vietnam and Taiwan. China also has ongoing territorial disputes in the region with Malaysia and Brunei.
US military forces are present in the area, with Washington claiming it can operate wherever international law allows. The sea is a strategic water route in the region, with cargo traffic worth several trillion dollars moving through it annually.
READ MORE: South China Sea row: Hague Tribunal rules in favor of Philippines, China to ignore decision
"The US Navy will continue to conduct routine and lawful operations around the world, including in the South China Sea, in order to protect the rights, freedoms and lawful uses of sea and airspace guaranteed to all," US Chief of Naval Operations John Richardson said on Wednesday, as cited by Reuters.
The US military official, who arrived in China earlier this week to discuss the dispute, added that Washington's policy regarding the matter "will not change."
Beijing previously announced it is closing off part of the South China Sea for military exercises until Thursday, with its senior admiral having also warned that freedom of navigation patrols by foreign navies could end "in disaster." "Flexing military muscles" in order to press Beijing into something "will only have the opposite effect," a Chinese Navy commander has said.
The US has been conducting such patrols close to Chinese-held islands and has complained that Chinese aircraft and ships have performed "unsafe" maneuvers in the area.
Last week, a court in The Hague issued a ruling stating that "there was no legal basis for China to claim historic rights to resources within the sea areas falling within the 'nine-dash line'," referring to a demarcation line on a map of the sea from 1947.
After boycotting the hearings at the Permanent Court of Arbitration, claiming that it does not have jurisdiction to decide the dispute, Beijing has ignored the ruling. It is always open to resolving disputes through direct negotiations, China has said, adding that it's the outside influence and interference that it does not recognize.
You can share this story on social media: