Turkey's main Muslim body prohibits religious funerals of coup supporters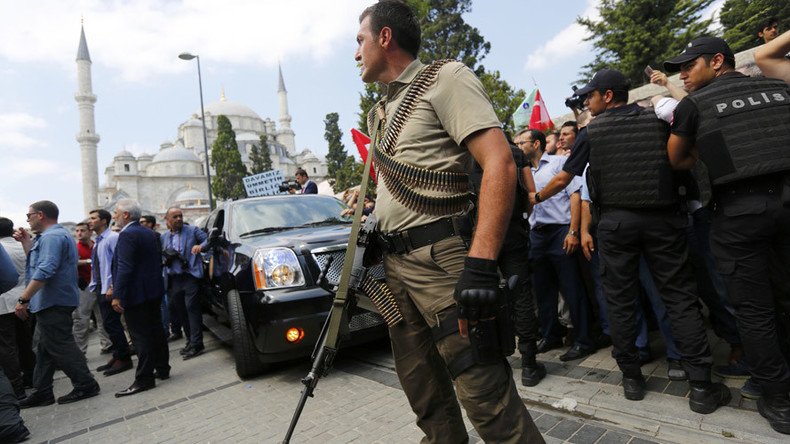 Turkey's main religious body has banned all imams in the country from holding services for military personnel killed supporting the attempted coup on July 15. The move comes amid sweeping purges that have left over 50,000 people dismissed or arrested.
Imams are no longer allowed to lead prayers for "pro-coup soldiers who targeted our nation," Anadolu Agency cited the Religious Affairs Directorate as saying on Tuesday. The ban does not apply to those who took part in the coup unwittingly or under duress.
The Religious Affairs Directorate (Diyanet) employs an estimated 100,000 personnel, including all of Turkey's 75,000 imams.
Earlier on Tuesday the Diyanet said it had dismissed 492 of its staff over what it described as "terrorism" links and suspected involvement in the coup attempt.
The attempted coup on Friday, July 15, claimed the lives of at least 232 people, of them 145 civilians, leaving nearly 1,500 people injured, Prime Minister Binali Yildirim said.
The Turkish government has launched a massive purge against those it suspected of participating in the attempted power grab and those connected to the organization of Fethullah Gulen, a powerful Muslim cleric President Recep Tayyip Erdogan accuses of masterminding the coup.
Around 50,000 soldiers, police, judges, civil servants, and teachers have been suspended or detained, and 99 military generals have been charged.
Turkey's High Education Board on Tuesday ordered the resignation of 1,577 deans at all universities, while the Education Ministry has suspended more than 26,000 employees.
You can share this story on social media: