Turkey post-coup purge: Licenses of 21,000 teachers revoked, 1,577 deans ordered to resign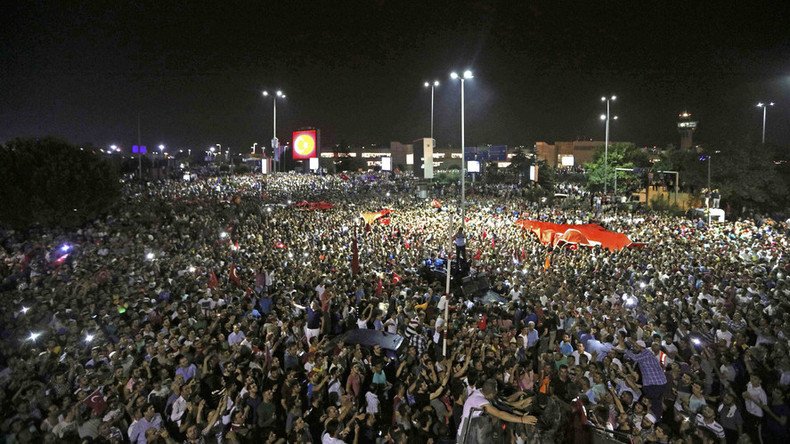 Turkey has revoked the licenses of 21,000 teachers working in private institutions, an Education Ministry official told Reuters. It's the latest in a string of crackdowns on workers allegedly tied to the exiled cleric blamed for last week's coup attempt.
"The licenses of 21,000 teachers working in privately-run institutions have been cancelled. Tip-offs that these [people] are mostly linked with terrorist activities have been taken into consideration," a ministry official said.
An earlier report from the state-run Anadolu news agency stated the ministry had dismissed 15,200 education personnel.
Meanwhile, Turkey's High Education Board has ordered the resignation of 1,577 deans at all universities – both public and private – across the country, state broadcaster TRT reported. The news caused the Turkish lira to weaken beyond 3 to the US dollar.
In addition, 399 employees of the Ministry of Family and Social Polices were stripped of their responsibilities on Tuesday, and 257 people working at the office of the prime minister were also sacked, Anadolu reported.
Turkey's courts have also ordered that 85 generals and admirals be jailed pending trial over their roles in Friday's coup attempt. Among those arrested include former air force commander Gen. Akin Ozturk, who is alleged to be a ringleader of the uprising. Gen. Adem Hududi, commander of Turkey's 2nd Army, which is in charge of countering possible threats from Syria, Iran, and Iraq, was also detained.
Thousands of officials suspected of links to US-based cleric Fethullah Gulen – who the government blames for the coup – have also been purged from the judiciary and Interior Ministry.
The newest sackings and calls for resignation are the latest in a movement that Prime Minister Binali Yildirim says is aimed at removing the influence of Gulen "by its roots." A total of 49,337 public sector workers – including military and police personnel – have lost their jobs since Friday, according to Hurriyet.
President Erdogan and his government blame Gulen for orchestrating the coup attempt on Friday in which over 200 people were killed and 1,400 injured. Ankara has called for Gulen's extradition from the United States, where he resides in the Pennsylvania town of Saylorsburg.
However, Gulen, 75, has rejected allegations that he was involved in the attempt, telling prosecutors in a statement that he is "not the person who planned or led the coup. Who planned it and directed it I do not know."
He said that Erdogan may have staged it himself – a claim which the Turkish president has called "nonsensical."
US Secretary of State John Kerry has said that Turkey would need to provide "evidence, not allegations" against Gulen in order to have him extradited to Turkey.
You can share this story on social media: