Protesters clash with police in Yerevan amid ongoing hostage situation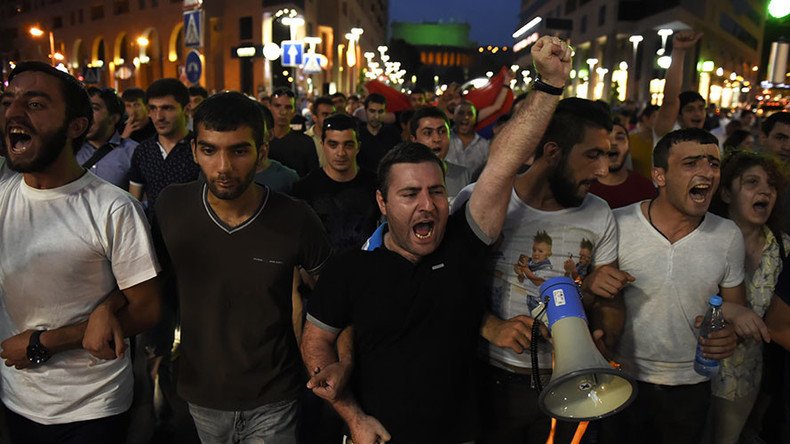 Dozens of protesters have taken to the streets of the Armenian capital, attempting to march on a police station which was seized by armed men over the weekend. Protesters clashed with officials after failing to comply with warnings not to proceed with the march.
Some 100 people gathered in central Yerevan on Monday, according to Interfax.
They were led by opposition activist David Sanasaryan, TASS reported, saying that the activist has been calling on Yerevan citizens to take to the streets in an anti-government protest. "I am against armed struggle, but a good deed has been launched, so let's join them," Sanasaryan reportedly said, calling on protesters to march towards the seized police station.
The head of Yerevan's police force, Ashot Karapetyan was at the scene and warned the protesters that the gathering was unlawful and they would not be allowed to proceed with the unsanctioned march. Armenia's deputy police chief, Unan Pogosyan also addressed the gathering, saying that a confrontation is being "provoked" in Yerevan, and calling on people not to "exacerbate the situation."
Protesters then tried to break through police cordons, which resulted in clashes. There have been no reports of casualties.
Dozens of protesters remain in Yerevan's central square, RIA reported, with authorities telling them that no special operation against those occupying the police station has been planned so far. Negotiations continue, police officials said, adding that no more blood should be spilled.
A group of armed men seized a police station and hostages in Yerevan on Sunday, killing one law enforcement officer and injuring two others. The attack was launched to demand the release of Armenian opposition figure Jirayr Sefilyan, who was detained last month after authorities allegedly uncovered a plot to seize several buildings and telecommunication facilities in Yerevan.
Negotiations were launched to persuade the hostage takers to lay down their weapons. Two hostages were freed Sunday overnight, the National Security Service said in a statement, adding that the armed group is refusing to let other hostages go, with high-ranking police officers among them.
"The terrorists who committed several crimes and have a large number of weapons and ammunition, pose a danger not only for the hostages, but for the society just as well," the National Security Service warned in a statement.
You can share this story on social media: