SpaceX's Dragon spaceship launched to ISS, first stage returned successfully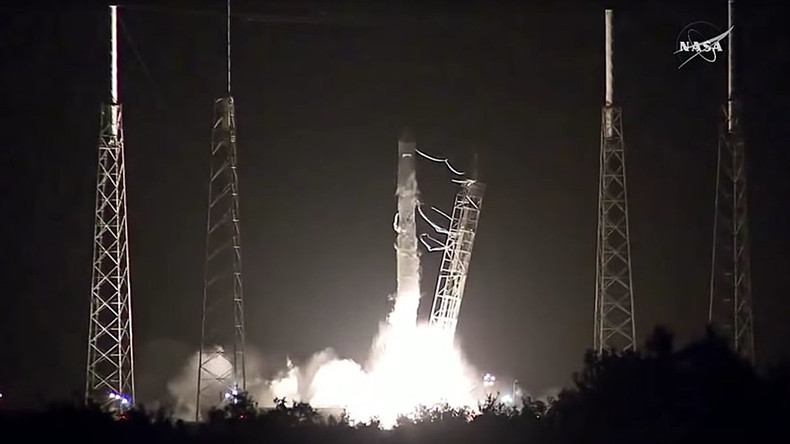 The Falcon booster was launched from Cape Canaveral, lifting cargo ship Dragon to the International Space Station with over two tons of supplies and scientific equipment onboard. The rocket's first stage has returned, performing a smooth vertical landing.
The launch took place in the middle of the night, at 00:45 AM Eastern time (04:45 GMT)
Dragon is going to perform its approach maneuver to the ISS within the next two days, with docking planned for July 20.
READ MORE: SpaceX home movies: Watch 4 years of Falcon 9 development in 4 minutes (VIDEO)
Among the equipment Dragon is taking to the ISS is a new-style docking port for NASA's section of the space outpost, the so-called International Docking Adapter (IDA) manufactured by Boeing. The previous one was lost in an unsuccessful launch in June of last year.
To fix the $26-million IDA in position, two American astronauts will perform a spacewalk in August to install a ring-like connector measuring 1.5 meter in diameter and about one meter tall.
READ MORE: The flight of Red Dragon: SpaceX to send capsule to Mars as early as 2018
Another IDA connector, a replacement for the lost one, is still to be delivered to the ISS.
Boeing is currently working on a new manned capsule called the Crew Space Transportation System (CST-100) Starliner, which will be docking at the ISS via the IDA connector. Starliner's first unmanned mission to the ISS is planned for December of 2017, and the first manned mission is planned for February of 2018.
The spaceship is also carrying materials for 280 scientific experiments. Dragon's return to Earth is planned for August 29.
READ MORE: SpaceX fails to land Falcon 9 rocket, satellite launch successful
The 15-story booster's first stage returned back to earth just several kilometers away from the launch pad at Cape Canaveral Air Force Station, just eight minutes after it was launched.
So far, Elon Musk's California-based company has managed to successfully return five boosters, two to the ground and three to a sea-based platform in the Atlantic. However, none of them has been qualified technically serviceable for a second launch. The first "reusable" booster launch has been announced for this fall.