Turkish coup 'no carte blanche' for purges, French FM says, as number of arrests reaches 6,000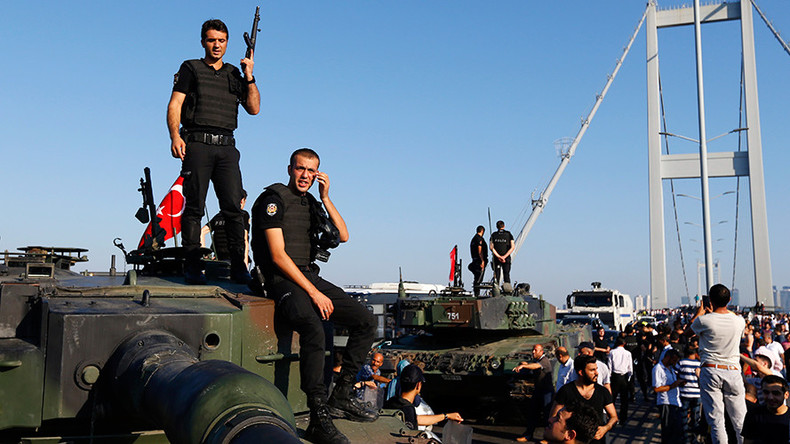 France's foreign minister has urged Turkish President Recep Tayyip Erdogan to respect the law and refrain from purges after the recent failed attempt by Turkish military officials to topple the government. Some 6,000 arrests have been made in just two days.
"We had to condemn the coup in Turkey, this is the least we could do," Jean-Marc Ayrault told France 3 TV channel.
"[But] we want the rule of law to function fully, this is no carte blanche for Erdogan," Ayrault said.
A faction of the Turkish military attempted to topple the government of President Erdogan on Friday night, with tanks and attack helicopters brought into Turkey's two main cities, Ankara and Istanbul.
The attempt failed, leaving at least 265 people killed and some 1,440 injured in military action. Authorities then launched a speedy operation to determine those involved in the attempted coup and prosecute them.
Some 6,000 people – generals, judges and prosecutors among them – have been detained within the past 48 hours in connection with the coup. A chief military assistant to the president is reportedly among those arrested. The country's justice minister, Bekir Bozdag, called the arrests "spring cleaning" and said more were still to come, according to broadcaster NTV.
French Foreign Minister Ayrault has criticized the moves, however, saying: "Do not resort to purges. Those who damaged democracy should be pursued within the framework of the law. We will continue to insist on the democratic treatment [of coup sympathizers] when we meet the Turks in Washington next week."
German authorities have not been as outspoken as the French, although Chancellor Angela Merkel – while addressing Erdogan but not mentioning him by name – said that "democracy, which respects everybody's rights and protects minorities, is the best foundation [for the rule of law]." She added that Germany sides with "all those who, in Turkey, defend democracy and the rule of law," noting that political change must only be applied via parliament.
EU Parliament president Martin Schulz echoed Merkel's words, stating that the Turkish government should not use the latest events to breach democratic foundations and deny people their fundamental rights.
"One-man rule and arbitrary decisions are not acceptable in a country which is not only a strategic ally but also an accession candidate to the European Union," he said.
Russian President Vladimir Putin held a phone conversation with Erdogan on Sunday, stressing that "anti-constitutional actions and violence are unacceptable in any country." He expressed condolences over "numerous deaths, both among civilians and law enforcement officers who stood against the plotters" and said he hoped "that constitutional order and stability will be restored in Turkey as soon as possible."
Pictures on social media showed detained soldiers stripped from the waist up, some wearing only their underpants, handcuffed and lying packed together on the floor of a sports hall where they were being held in Ankara.
President Erdogan denounced the coup as treachery and warned on Sunday that capital punishment, currently banned in Turkey, might be returned to bring to justice those responsible for Friday's events, Turkish NTV reported. Erdogan said it was in response to calls from a crowd of his supporters who gathered in front of his home in Istanbul.
"We cannot ignore this demand," Erdogan told the crowd, Reuters reports. "In democracies, whatever the people say has to happen."
Meanwhile, Turkish authorities say they have taken back control in the country and life has returned to normal, according to Prime Minister Binali Yildirim, who made the claim during a television broadcast on Sunday, Reuters reported.
You can share this story on social media: