Bahrain's main Shia opposition bloc dissolved by court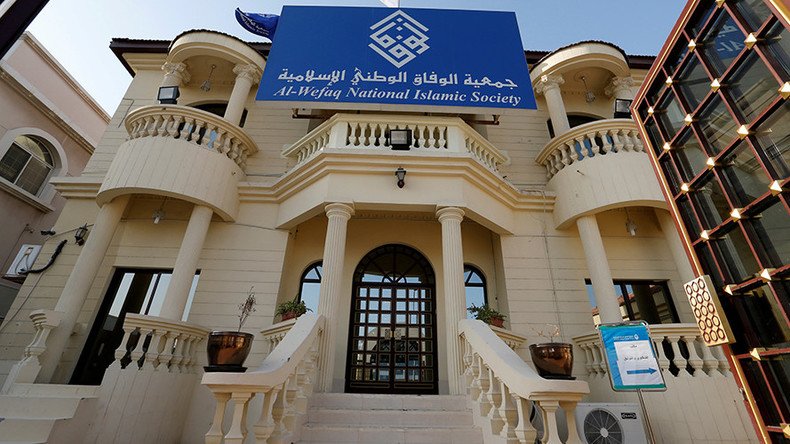 Al-Wefaq, Bahrain's Shia opposition group, has been dissolved by the kingdom's top court for "harboring terrorism," local media report. The court in Manama has also ordered that the movement's finances be impounded by government.
The group's accounts are to be closed and its financial assets will be transferred to the state treasury, the Associated Press cites Bahraini dailies Al-Ayam and Al-Wasat as saying.
Neither Al-Wefaq, nor Bahraini officials were available for comment, AP reports.
Last month, Bahraini authorities sentenced Al-Wefaq's secretary-general, Sheikh Ali Salman, to nine years in prison, while simultaneously suspending all of the movement's activities. The group and its leadership have been accused of supporting terrorism.
The kingdom of Bahrain is ruled by a Sunni dynasty, while the majority of the nation's citizens are Shia Muslims.
International pressure on the island kingdom, which hosts the US Navy's 5th Fleet, has been intensifying in recent years because of the ever-growing discrimination against the Shia opposition and the increasing number of attacks on free speech carried out by the Bahraini government.
Prominent Bahraini human rights activist and president of the Bahrain Center for Human Rights (BCHR) Nabeel Rajab remains at the center of the standoff between international human rights organizations and the Bahraini government.
Rajab, who has repeatedly advocated freedom of expression and debate in Bahrain, has organized numerous protests against the country's regime since 2011 and has been jailed on several occasions over the past years.
In 2015, Rajab was jailed for six months for making a tweet considered insulting to the Gulf kingdom's Ministries of Interior and Defense. His tweet suggested that Bahrain's security institutions may be acting as an "ideological incubator" for terrorism and Islamic State (IS, formerly ISIS/ISIL) militants.
Pardoned by King Hamad bin Isa al-Khalifa later in 2015, the activist told RT that he will continue tweeting and criticizing the Bahraini authorities.
"I'm going to continue my human rights struggle, and my struggle for democracy and human rights in this part of the world," he said.
On June 13, Rajab and his family tweeted that he had been re-arrested and his house searched.
Amnesty International and the European Parliament have slammed his detention as "a shameless attack" on free speech and independently called on Bahrain to free the activist, insisting that the charges against him be dropped.
You can share this story on social media: