Russian revolution icon, cruiser Aurora, makes spectacular comeback in St. Petersburg (VIDEO, PHOTO)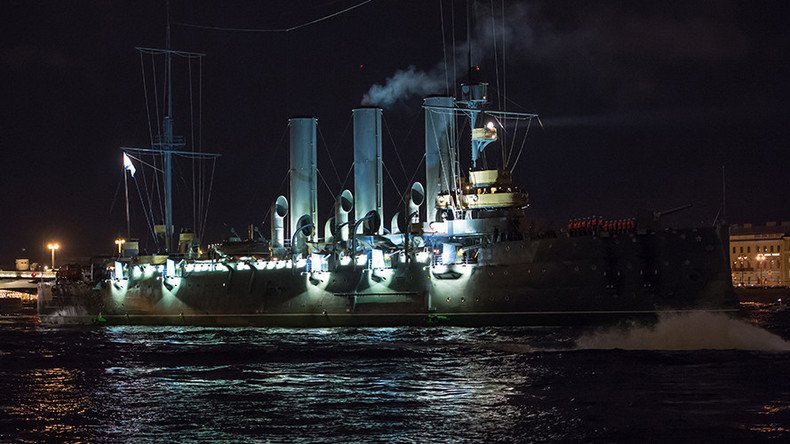 The Russian Navy's "Ship #1," the legendary cruiser Aurora, which is the symbol of the Great Socialist Revolution of October 1917, has returned to the Petrogradskaya embankment of St. Petersburg after a two-year renovation.
The once formidable 116-year-old battleship returned to its permanent anchorage in downtown St. Petersburg under its own power, fully operational once again, accompanied by tugboats that secured the armored vessel's passage through the narrowly opened drawbridges along the Neva River.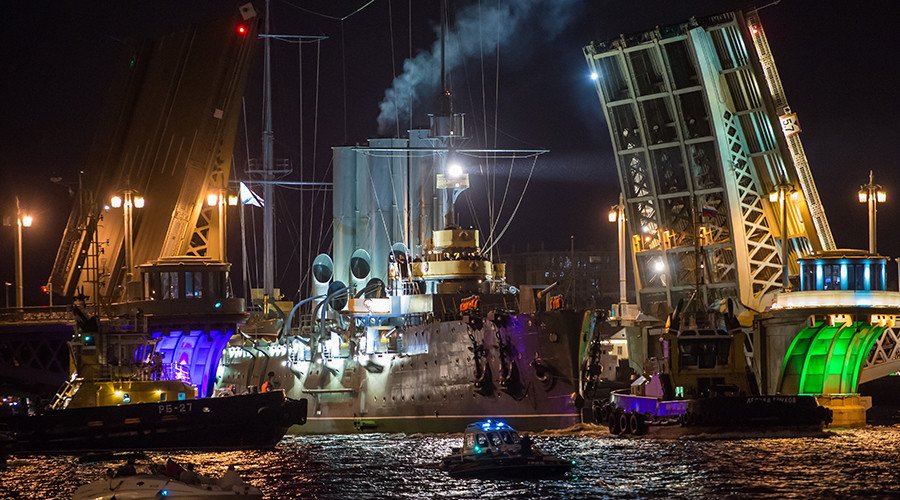 Thousands of viewers lined both riverbanks in the wee hours of Saturday morning to witness the arrival of the brightly illuminated warship, whose head searchlight was once again shining brightly after being out of service for at least the last 60 years.
At 5 am on July 16, the vessel turned Russian naval museum took its traditional berth, which it had left on September 21, 2014 in order to undergo extensive renovations.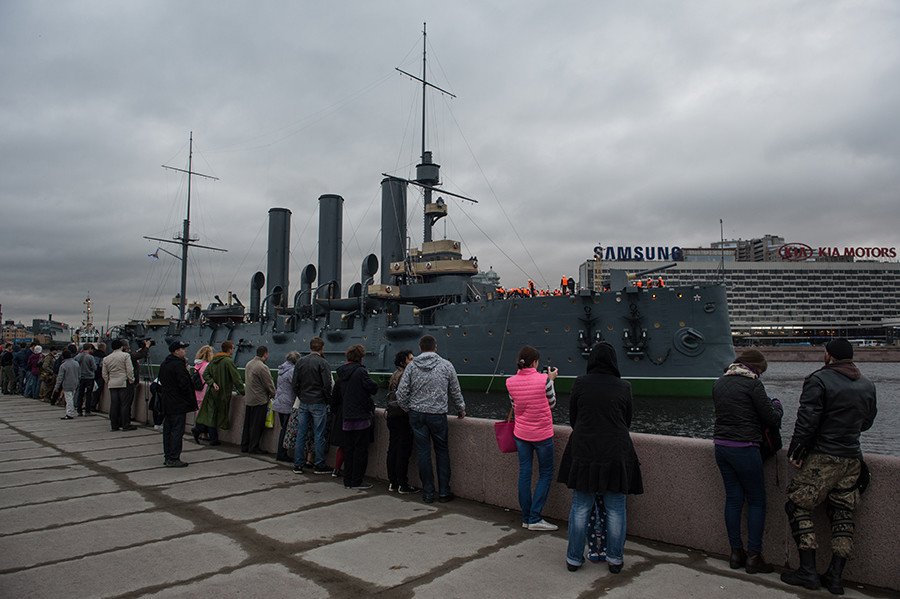 "All the renovation work is over… The Aurora has returned to the Russian Navy," TASS cited the Kronstadt dockyard's press service as saying on Friday.
The total cost of the renovation reportedly reached 840 million rubles ($13 million). Apart from all of its mechanisms being cleaned, greased, and painted, the cruiser's hull is now ready to stay in the water for many years to come. The museum inside the ship is now furnished with several media spaces, modern exhibits, and 52 security cameras to prevent any intruders from coming aboard or accessing the restricted areas inside the ship.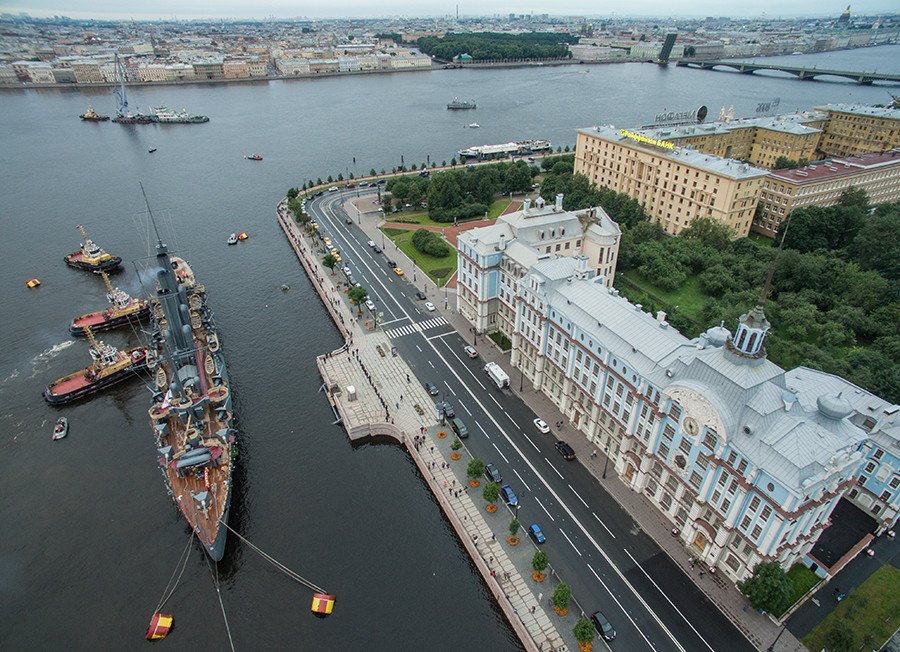 Built at the Baltic shipyard in St. Petersburg, the Diana-class first rate cruiser Aurora was launched in a ceremony in 1900, with Russian Emperor Nicholas II and members of the royal family in attendance. The Emperor named the ship after a sailing frigate that had defended Russia's Petropavlovsk-Kamchatsky in the Pacific Ocean during the Crimean War (1853-56).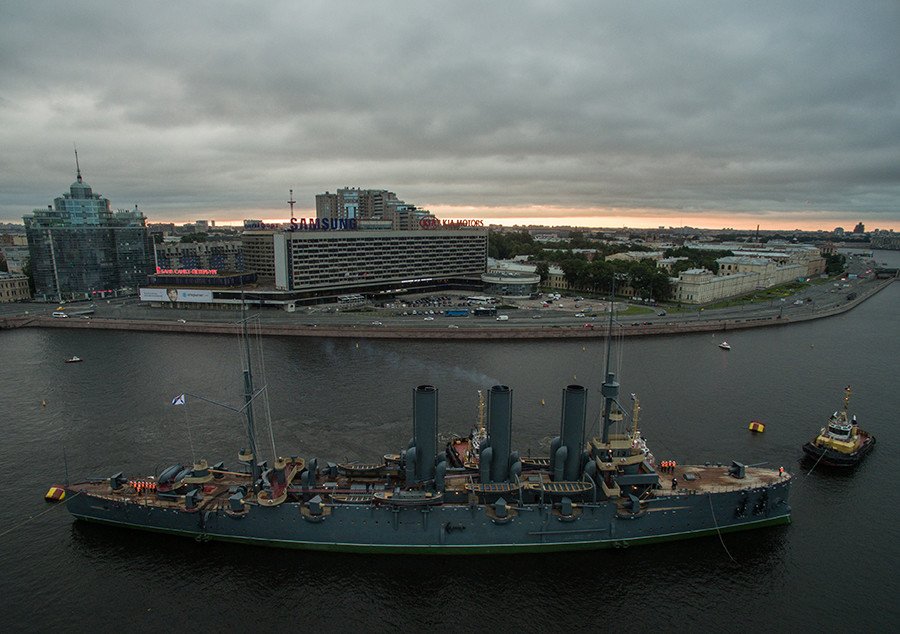 The legendary cruiser took part in three wars and remained in service for about 40 years. The Aurora participated in the Russo-Japanese war in 1904-1905 while operating in the Pacific.
The ship fought against Germany twice, during World War I and II.
Aurora marked the beginning of the Bolshevik revolution on October 24 of 1917 with a blank shot from its forecastle gun, which was a signal to launch an assault on the Winter Palace, where an interim government was residing at the time.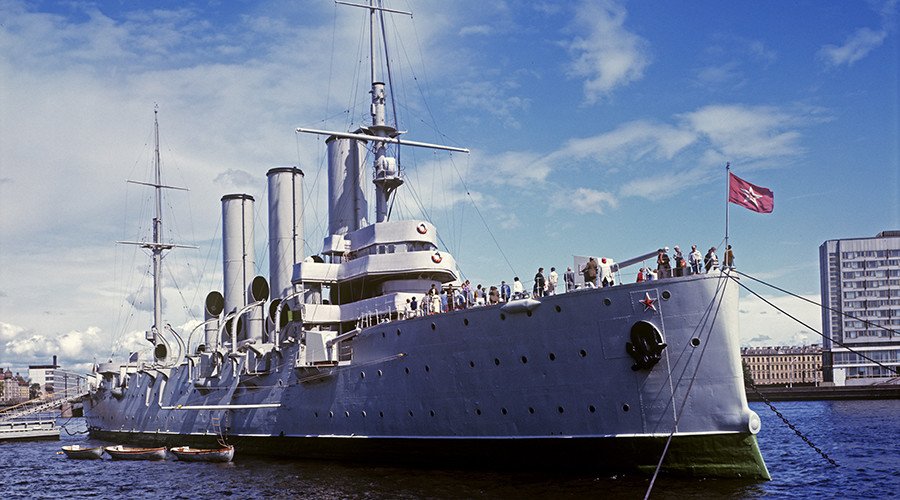 During the Siege of Leningrad, the Aurora's turret guns were dismantled so that they could be used on the frontline. The ship itself was heavily damaged in battle and became waterlogged. Yet it was fully repaired and rebuilt immediately after the war to become an historical naval museum that has been berthed on St. Petersburg's Petrogradskaya embankment over the past 70 years.
You can share this story on social media: