Local authorities block access to air base in Turkey that houses US nukes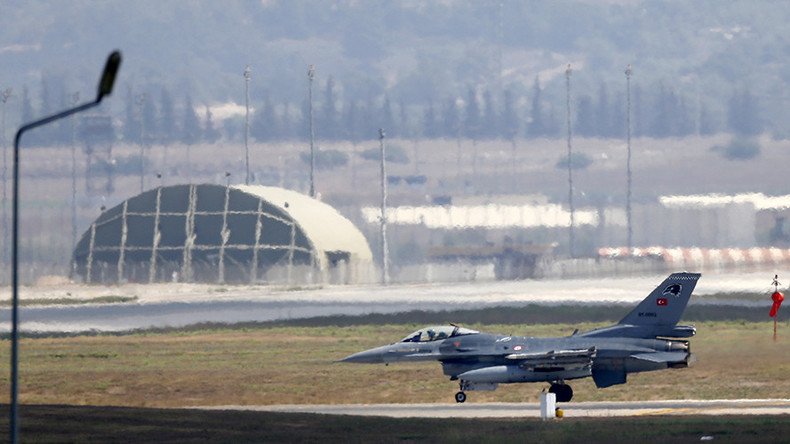 Movement in and out of the Incirlik airbase in southern Turkey was blocked on Saturday by local military authorities. The NATO base stores US tactical nuclear weapons.
Access to the base has now been restored and flights are again allowed in its airspace, Daily Sabah reports, citing the US consulate in Turkey.
"Local authorities are denying movements on to and off of Incirlik Air Base. The power there has also been cut," the US consulate in Adana said in a message.
"Please avoid the air base until normal operations have been restored," it added. No further details were provided.
According to CNN, power to the facility was also cut.
The closure of the airspace reportedly led to a halt in US air strikes against Islamic State (IS, formerly ISIS/ISIL). CNN was told by sources that the Turkish authorities did make an exception for US aircraft that had already been deployed on missions before the airspace was shut and allowed them to land at the base.
The air space was closed for Turkish authorities to complete "anti-coup" operations at the base, where some of the servicemen are suspected of supporting the failed Friday night military uprising. They have now been arrested, Turkish officials say.
The US will continue to cooperate with Turkey in its fight against Islamic State (IS, former ISIS/ISIL), US Secretary of State John Kerry said during his visit to Luxemburg.
US cooperation with Turkey within NATO, as well as in operations in Syria, has not been affected by the coup attempt, Kerry said, adding that the cooperation "continues as before."
US Central Command (CENTCOM) had to adjust its operations against Islamic State (IS, former ISIS/ISIL) to account for the lockdown at Incirlik airbase, TASS reported, citing sources in Pentagon.
The Incirlik airbase is of critical importance to the US military, as not only does it facilitate the US' aerial operations against terrorists in neighboring Syria and Iraq, but it is also one of six NATO sites in Europe that house tactical nuclear weapons. The exact number of tactical nuclear bombs at the base is classified, although some reports put it at 50 or even 90.
A group within the Turkish military attempted to stage a coup on Friday night, using tanks and attack helicopters. The conspiracy failed, as they didn't manage to capture any senior government officials and couldn't win wide support from the Turkish military.
According to the Turkish Prime Minister, at least 265 people have been killed, including 104 pro-coup participants, while 1,440 people were injured in military action in Istanbul and Ankara overnight. Since the plot crumbled, 2,839 soldiers and officers involved in the coup attempt have been arrested.
You can share this story on social media: