Soldiers 'surrender weapons' on Istanbul's Taksim Square amid reports of fighting with casualties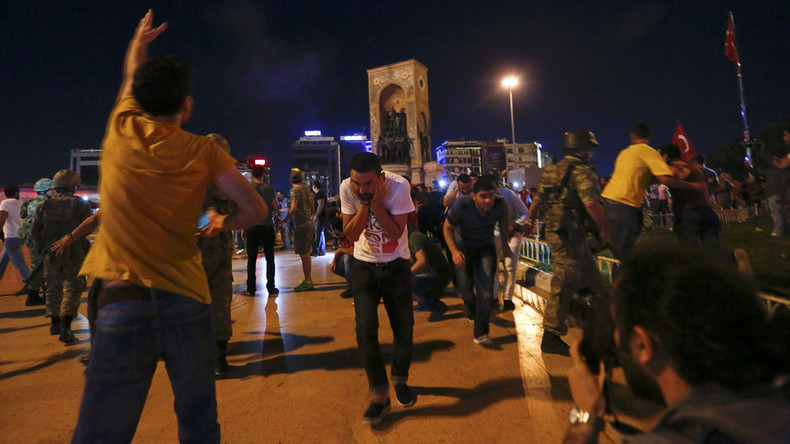 The Turkish military has opened fire and used tanks against crowds of civilians in the city of Istanbul amid protests against the ongoing coup, reports and footage on social media show.
Witnesses reported hearing two explosions near Istanbul's Taksim Square, while AP reported that the police and the military once again exchanged fire on the square.
Meanwhile, Reuters reported that around 30 Turkish soldiers who were attempting to support the military coup have surrendered their weapons to police in Istanbul's central Taksim Square.
As the soldiers were turning over their weapons, a fighter jet flew by at low altitude, triggering a sonic boom that shattered the windows of nearby buildings.
Earlier, soldiers reportedly fired on protesters trying to cross Istanbul's Bosporus bridge. Several people are said to be wounded, according to media.
At least 150 people were admitted to Istanbul's Haydarpasa Numune Hospital with injuries, AP reported, citing an official. Earlier, NTV said that at least six dead bodies were transported to the same hospital.
Meanwhile, Anadolu Agency said that at least two civilians died as military shot at people protesting the attempted coup in Istanbul.
Video footage from the scene showed people taking shelter behind a bus as panic ensues. Others were seen carrying the wounded away to safety.
An AFP photographer said he saw wounded people being taken away from Bosphorus Bridge by ambulances to hospitals.

A separate video showed a tank crashing into a car seemingly blocking the military's way.
Protesters attempted to block the tanks by climbing on top of them and hitting them with objects.
Turkey's Dogan news agency confirmed reports of soldiers shooting at protesters trying to cross Istanbul's Bosporus bridge, adding that some have been injured.

Turkey's special forces commander said that the country's armed forces do not condone the actions of an attempted coup.
READ MORE: Military coup in Turkey
TV footage released by the news agency showed people running to take cover.
Police forces and protesters gave soldiers blocking the Bosphorus bridge a last warning to surrender, stating that they have two hours to leave, according to reports.
At least one protestor has died in an altercation outside the AKP party headquarters in Istanbul.
The military has moved to the base of the Taksim monument at Taksim square in Istanbul, AP reported, adding that random shots are being fired into a crowd of government supporters.
Meanwhile, police arrested four soldiers who tried to storm the building of state-television TRT in Istanbul, Anadolu Agency said.
Eyewitnesses reported hearing another massive explosion in Istanbul at around 4:40 a.m. local time. The exact location was unknown.
The attempted military coup has been "suppressed" and organizers are now being arrested, Istanbul Governor Vasip Sahin told NTV.
The Turkish Parliament has scheduled an emergency meeting on Saturday to address the attempted coup, Parliament Speaker Ismail Kahraman said.