Smoke rising from Eiffel Tower causes terror scare in wake of Nice attack (VIDEOS)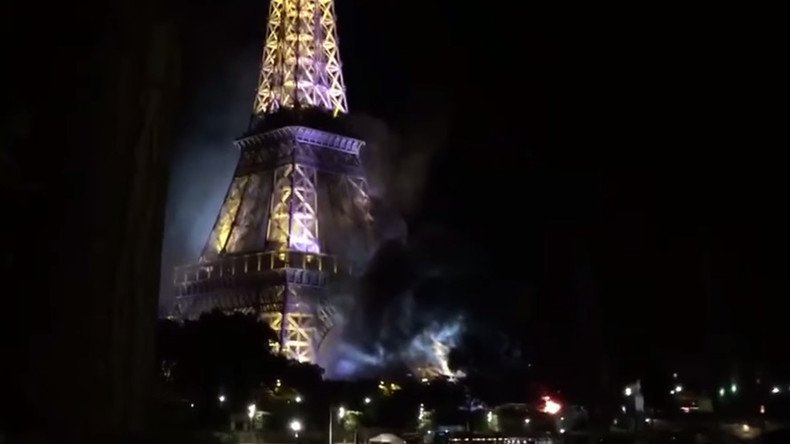 Fireworks at Paris's iconic Eiffel Tower caused a blaze with billowing smoke as a truck had a "technical incident," French police said. The fire triggered massive panic as it followed an earlier attack in Nice, where a truck plowed into a crowd, killing dozens.
France vows to retaliate for Nice attack, extends state of emergency (LIVE UPDATES)
The blaze in the midst of fireworks was caught by thousands on cameras. The footage showed the Eiffel Tower covered with heavy smoke, partially obscured.
Local police confirmed that the fire was an accident and not a terror attack.
Paris Police Prefecture tweeted that the blaze was caused by a "technical incident" involving a "truck with fireworks," which was located nearby the Eiffel Tower.
Some videos posted online clearly show where the fire originated - the neighboring Jena Bridge.
However, despite police reassurance, the fire caused massive panic, as it followed a tragic attack in Nice, in southern France. Over 75 people were killed and more than 120 others injured after a truck plowed into a crowd during Bastille Day celebrations.
READ MORE: Moment of truck rampage in Nice captured on video (GRAPHIC)
Bastille Day is celebrated every year on July 14 in France and French-speaking regions around the globe. It celebrates the start of the French Revolution over 200 years ago.
You can share this story on social media: