Enormous thunderstorm hits Moscow, rain floods streets (PHOTOS, VIDEOS)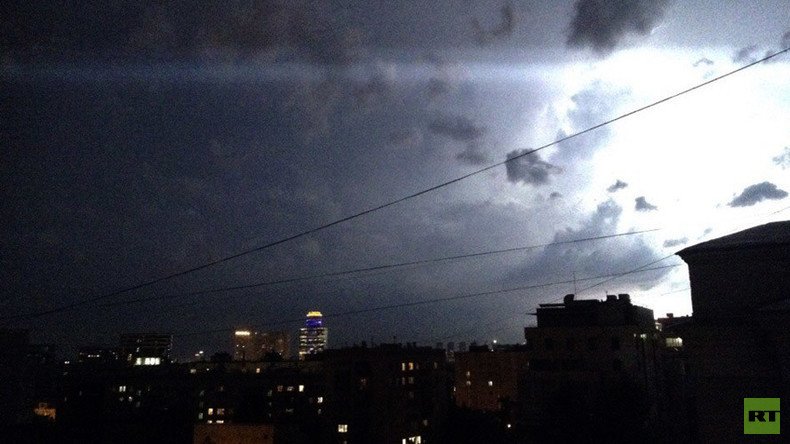 A powerful thunderstorm hit Moscow shortly before midnight on Wednesday, with heavy rain instantly flooding streets and making waves on social media.
The heavy rain with hail and gale force wind was registered in the northwestern part of Moscow.
The thunderstorm halted traffic in many areas in the city due to the zero-visibility conditions it brought, RIA-Novosti reported.
Earlier, Russia's Emergencies Ministry has issued a warning of a strong thunderstorm, with wind gusts of up to 18 meters per second (64 km/h) in the capital.
Damage to power lines, falling trees, and traffic delays were named among the possible consequences of the storm.
The massive torrents have completely flooded several streets, with pedestrians having to literally wade through them. Some of the temporary rivers are reported to be over half a meter deep.
Some 30 flights have been postponed at three major Moscow air hubs due to the ravaging storm that engulfed the city. However, there have been no cancellations so far and the airports continue to operate as usual.
"The airports' operation was not seriously compromised," a law enforcement source told RIA Novosti.
While no casualties have been reported within the city, three people have been slightly injured in the storm in Moscow Region, a health care source told TASS.
"The strong wind has knocked down trees and teared off roofs from several houses. As a result three people have received minor injuries and bruises," he said.
The meteorologists believe the foul weather came to Russia from Belarus. While it is expected to leave Russia's capital on Thursday morning, it will spread further to the north and northwest reaching the city of Nizhny Novgorod, about 400km east of Moscow in the morning.
You can share this story on social media: