Beijing mulls setting up air defense zone in S. China Sea, gets new guided-missile destroyer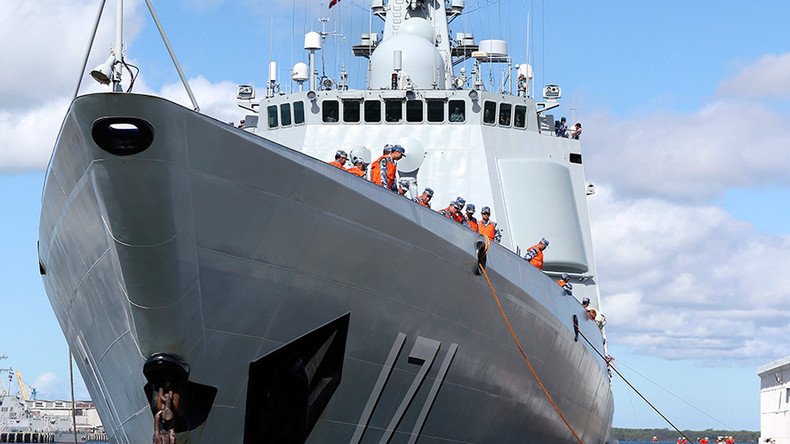 As the Hague Tribunal rejected China's claims to "historic rights" in the South China Sea, Beijing announced the commissioning of its fourth guided-missile destroyer and warned it could set up an air defense zone over the disputed area.
The commissioning ceremony for the new 052D Yinchuan destroyer was held on Tuesday at a naval port in Sanya in the Hainan province, which is located on an island that is the nation's southernmost point.
The Yinchuan destroyer, which is about 150 meters in length with a 20-meter beam, is equipped with advanced weapons systems and can conduct aerial defense, antisubmarine operations, and anti-sea missions, making it one of China's most sophisticated vessels.
The announcement comes right after the Hague Tribunal ruled on Beijing's claims in the South China Sea.
On Wednesday, China's Vice Foreign Minister Liu Zhenmin said that Beijing would be within its rights to set up an air defense zone in the South China Sea. The decision will depend on the type of threat China faces. Liu added that Beijing is hoping to return to bilateral talks with the Philippines over the South China Sea.
The Chinese government published a white paper on the same day in which it once again stressed that the sovereignty claims of the Philippines are "groundless."
"The Philippines' territorial claim over part of Nansha Qundao is groundless from the perspectives of either history or international law," according to the document.
China's Defense Ministry stated earlier that the ruling will not affect China's sovereignty and interests in the South China Sea. Though the ruling is binding, the Permanent Court of Arbitration has no power to enforce its decision.
"No matter what kind of ruling is to be made, the Chinese military will firmly safeguard its national sovereignty, security and maritime rights and interests, unwaveringly safeguard regional peace and stability and deal with all kinds of threats and challenges," Senior Colonel Yang Yujun, spokesman for the Ministry of National Defense (MND), said in a statement.
The Permanent Court of Arbitration ruled against Beijing on Tuesday stating: "The Tribunal concluded that there was no legal basis for China to claim historical rights within sea areas falling within the 'nine-dash line.'"
The dispute over the South China Sea involves the Spratly and the Paracel Islands. Beijing's territorial claims to the islands partly overlap those of the Philippines, Vietnam and Taiwan, while Beijing also has ongoing territorial disputes in the area with Malaysia and Brunei.
You can share this story on social media: