Polish public broadcaster censors Obama criticism of country's democracy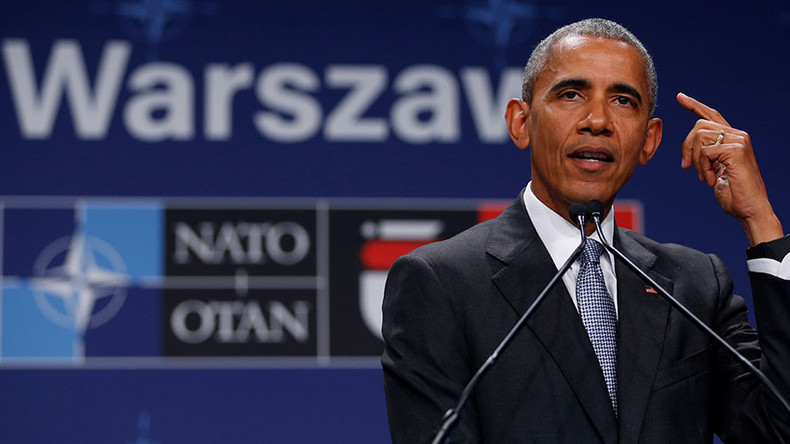 Speaking alongside President Andrzej Duda in Warsaw, Barack Obama voiced concern over "the impasse around Poland's Constitutional Tribunal." But viewers of Poland's top public broadcaster were told the US leader "praised Polish efforts at democracy."
"I expressed to President Duda our concerns over certain actions and the impasse around Poland's Constitutional Tribunal. I insisted that we are very respectful of Poland's sovereignty, and I recognize that parliament is working on legislation to take some important steps, but more work needs to be done," Obama said after he and Duda met at a NATO summit on Friday.
"And as your friend and ally, we've urged all parties to work together to sustain Poland's democratic institutions," the US president stressed. "That's what make us democracies – not just by the words written in constitutions, or in the fact that we vote in elections – but the institutions we depend upon every day, such as rule of law, independent judiciaries, and a free press," he added.
Viewers of Telewizja Polska were given quite a different picture of the top evening news.
"Ninety-five percent of the meeting was about issues of NATO and security, but Obama praised Polish efforts at democracy," the reporter said, according to the Washington Post. "Concerning the issue of the constitutional tribunal, he said he is sure that spreading democratic values in Poland will not stop."
Other parts of Obama's message happened to be somewhat "lost in translation."
"Poland stands and needs to continue to stand as an example for democratic practices around the world," the US president noted during his speech.
In the clip played on Polish television, Obama was translated as saying that: "Poland is and will be an example of democracy for the whole world."
Duda's spokesman Marek Magierowski also chose to downplay Obama's criticism.
"President Obama made his statement, President Duda made his," Magierowski told reporters, Reuters reported. "It's difficult to force President Obama to say what this or that politician in Poland would like him to say. I don't see a problem here," he said.
Read more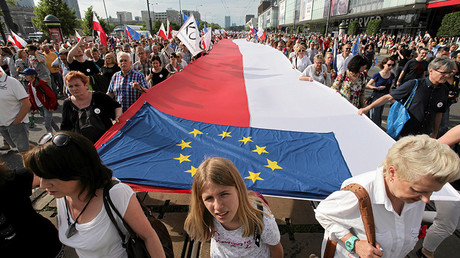 Last month, a massive anti-government rally was held in Warsaw and at least 20 other Polish cities. Tens of thousands of Poles joined the rally in the capital under the slogan, "Everyone for freedom" in order to protest the actions of the current government, which many accuse of undermining democracy and moving Poland away for Europe. The protesters also demanded that the conservative ruling Law and Justice (PiS) party (which came to power in November of 2015) respect EU standards of governance. PiS has been under fire ever since it passed a number of legal amendments last year, including some key changes to the Constitutional Court. The government has taken more direct control of Poland's supreme judiciary body and brought state-owned media under government control while increasing police surveillance powers.
Over 100 journalists have been fired or have resigned from Poland's public broadcaster this year, the Washington Post reported, adding that anyone perceived as critical of the PiS party is under threat.
Several thousand people held a demonstration outside the main public TV station in Warsaw in January, to protest against the enactment of Poland's media law, which gives the conservative government the power to directly appoint the heads of public broadcasters.