NATO 'speaks of defense, prepares offensive', says Gorbachev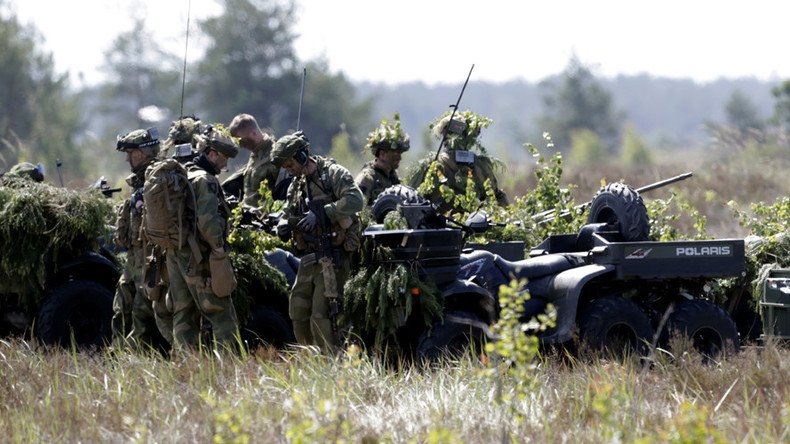 Despite NATO assurances that it seeks deterrence and dialogue with Russia, the alliance seems to be preparing to escalate conflict, says Mikhail Gorbachev, the man praised for ending the Cold War after the alliance convened at a summit in Warsaw.
"The rhetoric in Warsaw screams of an intention to practically declare war on Russia. They only talk about defense, but in fact they are preparing an offensive," the former Soviet leader told Interfax.
Gorbachev, who played a key part in deescalating tensions between the Soviet Union and the West in the 1980s and eventually withdrew soviet troops from eastern Europe, was commenting on the two-day NATO summit in the Polish capital. Ironically, the city once lent its name to NATO's communist counterpart, the Warsaw Pact, but has now seen leaders of the US-led alliance negotiating increased pressure on Russia.
In its final communique NATO accused Russia of "provocative military activities in the periphery of NATO territory" and "willingness to attain political goals by the threat and use of force". The alliance said Moscow's actions "are a source of regional instability, fundamentally challenge the alliance, have damaged Euro-Atlantic security, and threaten our long-standing goal of a Europe whole, free, and at peace."
The key result of the Warsaw summit was the long-promised deployment of additional NATO troops at Russia's border, namely in host nation Poland and the Baltic States. NATO claims that the deployment is necessary to prevent a possible attack from Russia and reassure the eastern European nations that other members are committed to defend them.
The anticipated decision and the entire event is perceived by many people as anti-Russian, Brian Becker from the anti-war 'Answer Coalition' told RT.
"It is a big show: you have 2,500 officials; you have 2,000 media, and you have the 28 members of NATO plus 26 partnering countries […] almost a quarter of the countries in the world under a US-led military alliance threatening Russia," he said. "It is perceived as such in Russia, and it should be perceived as such."
Russia believes that NATO's new troop deployments as well as an increased number of military trainings near Russia's territory, the creation of anti-ballistic missile sites in Europe and other moves are a threat to Russia's national security. Its response was to increase its own troops in the west, saying it's necessary to counter NATO's new capabilities.
The alliance, Moscow says, plays the card of perceived Russian aggression to justify its overdue existence and push European nations into increasing defense spending. Improving budget discipline was praised by the alliance at the summit, even though the majority of members are still below NATO's 2 percent GDP benchmark for military spending.
Critics of NATO like Gorbachev say it is taking risks by alienating Russia to secure its own goals.
"The world should realize that it can't pretend that nothing concerning is happening. Russia cannot but keep its defense line, and this horrifying process must be stopped," he said. "World peoples should stop this slide towards war so that nobody dared gamble with escalating the global tension and push the world to a new shooting war."
The concern seems to be shared by some NATO members, which amid the summit reiterated on numerous occasions that the alliance is not seeking confrontation with Russia.
"We must ask if the world would be a better place when both sides conduct military exercises on the borders and arm themselves," German Vice-Chancellor Sigmar Gabriel told Passauer Neue Presse on Thursday.
French President Francois Hollande said that the defensive block "has no role at all to be saying what Europe's relations with Russia should be," adding that France doesn't see Russia as a threat.
NATO's official stance on Russia is that it wants to deter it while keeping channels open "when Russia's actions make that possible". But it also condemned Russia's military presence in Syria and its support of the Syrian government, even though in Syria, Russia and NATO members have a rare moment of limited cooperation in fighting against terrorist groups.
Practically all ties with Russia were suspended by NATO after the Ukrainian political crisis escalated tension between the two. The NATO-Russia Council, a body that is supposed to tackle the differences, was reconvened after a two-year break and is to hold a meeting next week in Brussels.
Other decisions taken by NATO members at the Warsaw summit included the continued training of Iraqi troops, which will be moved from Jordan to Iraq proper, closer cooperation with the European Union on issues like opposing Russia and tackling the refugee crisis and deploying AWACS aircraft to monitor airspace over Syria and Iraq, "raising situational awareness" for the anti-IS operation led by the US.
You can share this story on social media: