Gravely inappropriate: Pakistani journalist reports on Edhi death from 6ft under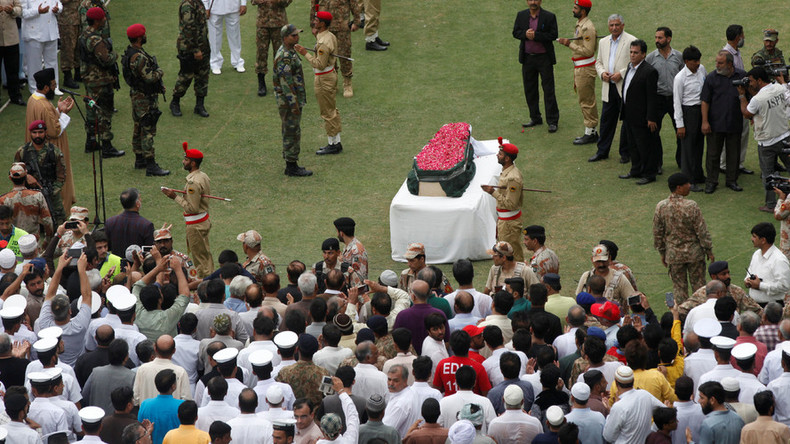 While Pakistan mourns the death of national icon Abdul Sattar Edhi, a journalist decided to go to extreme lengths to cover the story of the passing - and got right into the humanitarian's grave, according to a viral tweet.
The reporter who is from Express News, appeared to be informing his viewers of the details of tragic news from the grave of Pakistan's most notable philanthropist, who passed away on July 8, aged 88.
Text displayed in Urdu on the screen says: "Karachi, inside the last resting place of the servant of humanity, Abdul Sattar Edhi."
The grave itself had been dug some 25 years ago by the social activist in Edhi village in Karachi and is where he was buried following afternoon prayers on Friday.
READ MORE: Pakistan media attacked after blackout during execution of liberal governor's killer
Media networks in Pakistan have been providing round-the-clock coverage of the story since news emerged of Edhi's death, but the Express News reporter chose to break new ground in a more tasteless way.
Executive news directer of the company apologized for the report.
Fahd Husain said the clip "violated all social and journalistic ethics and should not have gone on air."
Edhi is known as a national icon to many and provided decades of charitable relief for the poor. His humble and simplistic lifestyle gained him the reputation as Pakistan's leading philanthropist and he was also nominated for a Nobel Peace prize.
He was diagnosed with kidney failure in 2013 and his health declined.
Twitter users had a lot to say about ethics, journalists and how far some reporters will go to get a story.
Others, were sarcastic in their responses, but had some good points.
Over 35,000 people gathered in Karachi for the funeral to bid the charity worker a final farewell.