UN sounds alarm over 'structural and institutional racism' in US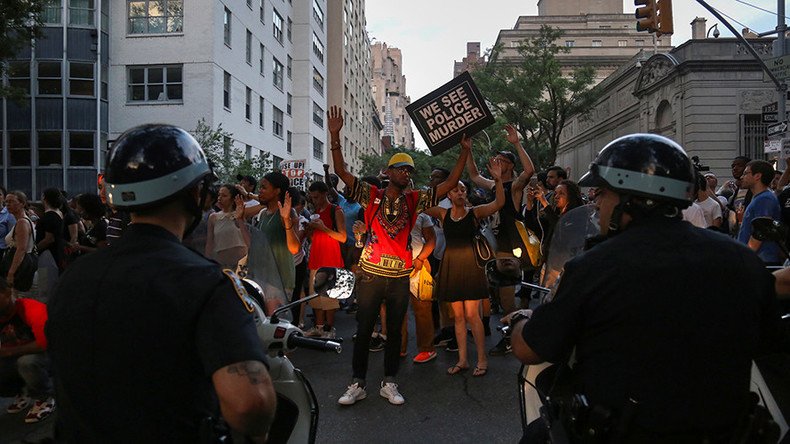 There is a high level of structural and institutional racism in the US, Ricardo A. Sunga III, chair of the UN expert panel on people of African descent, said, commenting on the back-to-back killing of two black men by the American police.
"The Working Group [of Experts on People of African Descent] is outraged and strongly condemns the new police killings of two African-American men," Sunga said in a statement published on the United Nations' official website.
The deaths of Philando Castile in Minnesota and Alton Sterling in Louisiana at the hands of the officers earlier this week, "cannot be ignored," the statement read, urging a "prompt independent investigations to ensure the perpetrators are prosecuted and punished."
The UN working group stressed that excessive use of force by the police against African Americans has become a "regular" occurrence in America, with black people twice as likely to be shot as whites.
"The killings also demonstrate a high level of structural and institutional racism. The United States is far from recognizing the same rights for all its citizens. Existing measures to address racist crimes motivated by prejudice are insufficient and have failed to stop the killings," the experts said.
According to the statement, the UN working group has repeatedly expressed its concern to the US authorities about various killings of African-Americans by law enforcers.
Experts said that they are convinced that the root of the problem lies in the lack of accountability for perpetrators of such killings despite overwhelming evidence against them, including video footage of the crime, being present.
"It is time, now, for the US Government to strongly assert that Black lives matter and prevent any further killings as a matter of national priority," Sunga stressed.
The UN working group also condemned Thursday's sniper attacks on police officers in downtown Dallas, which took place during a protest over the killings of Castile and Sterling.
Five officers were killed and nine people wounded, including two civilians. One sniper was later killed in a standoff with the police. Three other suspects involved in the shooting were detained.
During negotiations, the perpetrator said that he was angered by the killings of African Americans, and wanted to kill more white officers in retaliation, the police said.
UN Secretary-General Ban Ki-moon also condemned the attacks of officers in Dallas and expressed condolences to the families and colleagues of the victims.
"There is no justification for such violence. Those responsible compounded the suffering that many in the United States feel following the killing of two African-American men over two days. Those killings must be the subject of a thorough and impartial investigation," Stephane Dujarric, the UN head's spokesman, said.
READ MORE: Slain Dallas suspect said he acted alone, wanted to kill white cops - police chief
The events in Dallas once again emphasize the need to address discrimination, including racial disparities in law enforcement, Dujarric stressed.
WATCH MORE:
You can share this story on social media: