35 dead & over 60 wounded in triple ISIS attack on Shiite holy site outside Baghdad – reports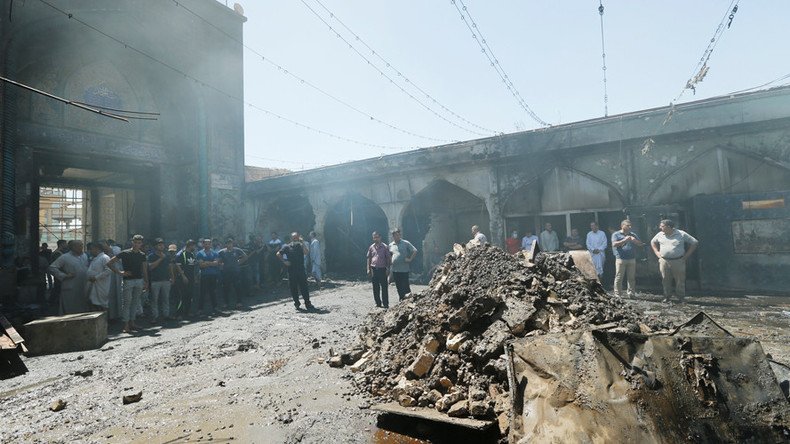 At least 35 people have been killed and over 60 others wounded in coordinated suicide attacks at a Shiite mausoleum north of Baghdad, according to local reports. Several gunmen also allegedly stormed the site, opening fire on Eid al-Fitr festival pilgrims.
The attacks at the Shiite holy site, located 93 kilometers (58 miles) north of Baghdad, began late on Thursday night. One bomber detonated an explosives belt near police officers who had been guarding the external gate of the Mausoleum of Sayid Mohammed bin Ali al-Hadi at around 11:00pm local time (8:00 p.m. GMT).
Another bomber then went inside the shrine as gunmen opened fire on security personnel in the area. He blew himself up in the middle of the crowd celebrating the festival of Eid al-Fitr.
Security managed to gun down the third attacker down before he could detonate his explosives belt.
According to Reuters, the site also fell under rocket fire during the attacks for which Islamic State (IS, formerly ISIS/ISIL) claimed responsibility. The group confirmed in a statement that the bombings had been carried out by three attackers wearing suicide belts.
The unconfirmed death toll has reportedly climbed from an initially reported 20 people to at least 35. The number of the injured, which had originally been reported as standing at 50 has now reached at least 65, according to local media.
Unconfirmed reports also suggest that three suicide bombers have been arrested and two undetonated belts have been found.
Stepped-up security forces have allegedly blocked all the exits at the site.
The attack in Balad comes just days after a refrigerator truck bomb in a Shiite district in Baghdad killed at least 292 people on July 3. IS claimed responsibility for what has become Baghdad's deadliest single attack this year.
IS has carried out multiple attacks targeting Shiites in Iraq in recent months.
You can share this story on social media: