Smash, bulldoze, erase: ISIS releases new video of Palmyra antiquities' destruction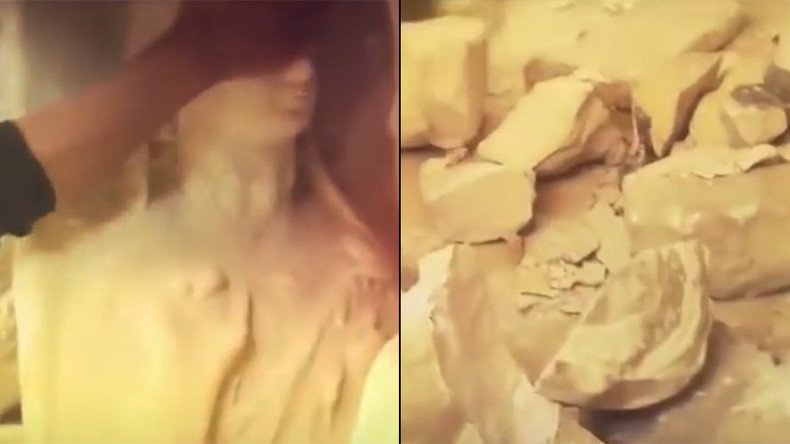 Islamic State has released a new video showing the destruction of Palmyra. Apparently filmed before the city's liberation in May this year, the footage depicts extremists smashing ancient statutes and bulldozing human mummies.
The video allegedly released by one of Islamic State's (IS, formerly ISIS/ISIL) websites, was shot in the form of a documentary. First it shows militants smashing ancient statues on the ground and then come the mummies, which the extremists later bulldoze.
A strategically important location, Palmyra had been in jihadist hands since May 2015. The Syrian Army backed by Russian forces managed to recapture the city on March 27, an event largely viewed as a victory and turning point in the war against the terrorists.
A number of remarkable monuments including the Arch of Triumph, the Temple of Baalshamin and the iconic 2,000-year-old Bel Temple were left in ruins after 12 month of IS occupation. The ancient city was left devastated and riddled with booby traps, which Russian sappers cleared after the liberation.
The terrorists also looted Palmyra's museums and vandalized its precious exhibits. In June 2015, extremists decimated two unique tombs in Palmyra.
READ MORE: Harrowing images show ISIS 'demolishing' Syria's ancient Palmyra temple (PHOTOS)
However, before Palmyra was captured by jihadists officials managed to remove some of the site's precious artifacts and transport them to Damascus.
IS considers the artifacts idolatrous. They have been waging a campaign to obliterate cultural sites and relics on the territories of the self-proclaimed caliphate in northern Iraq and parts of Syria.
IS has also destroyed many historic Iraqi sites and monuments, including the Assyrian city of Nimrud, the Winged Bulls, and the Mosul National Museum. In April, militants destroyed a 2,000-year-old gate near the Iraqi city of Mosul. The structure was known as the Gate of God, and used to guard the ancient Assyrian city of Nineveh.
In 2015, IS extremists bombed the historic Yezidi ancient minaret in northern Iraq's Shingal district.
You can share this story on social media: