Palestinian woman shot in stab attempt on Israeli soldiers (VIDEO)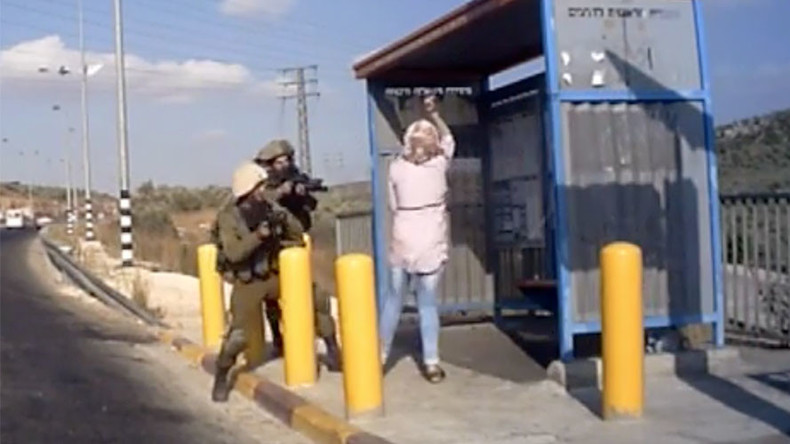 Dashcam footage has captured two Israeli soldiers shooting a Palestinian attacker as she was trying to stab them at a bus stop in the West Bank.
The incident reportedly took place on Gitai Road near Ariel, an Israeli settlement and city in the central West Bank, the Times of Israelreported. The Dashcam video recorded from a passing car was released on YouTube on Tuesday evening.
The footage shows a woman in a headscarf approaching two IDF (Israeli Defense Forces) soldiers standing at a bus stop. A knife is clearly seen in the woman's hand.
The soldiers back away, raising their weapons, but the woman doesn't stop. The officers shoot the woman who is seen falling on the ground. She was shot in the abdomen, according to the Times of Israel.
READ MORE: Israel halts return of Palestinian attackers' bodies to families
Later, an Israeli military spokesman said the woman, whose identity hasn't been released, received medical treatment at the scene. She was then taken to a nearby hospital in serious condition, the spokesman added.
Tensions have been running high in recent months in the West Bank. Earlier in June, a 13-year-old Israeli girl died in hospital after being stabbed in her bedroom by a Palestinian assailant in a gated settlement in the occupied West Bank. She was later confirmed to be a US citizen.
According to Reuters data, in the last nine months Israeli forces have killed at least 197 Palestinians, 134 of whom were deemed to be terrorists. Others were killed in clashes and protests, which resulted in the deaths of 32 Israelis and two visiting US citizens.
READ MORE: 13yo Israeli stabbed to death in West Bank was US citizen
In 2015, 'lone wolf' stabbing attacks committed by Palestinians have increased in the West Bank. The so-called 'knife intifada' or 'stabbing intifada', has been actively promoted by online campaigns in Palestinian social media and networks.
In June, Palestinian President Mahmoud Abbas condemned the recent surge of violence. "Anyone who wants to act against security using explosions, weapons or creating cells in any place will be arrested, no matter where he is going. Security measures have been taken following my orders," Abbas said.