Suicide bomber strikes near Prophet's Mosque in holy Saudi city of Medina (VIDEO)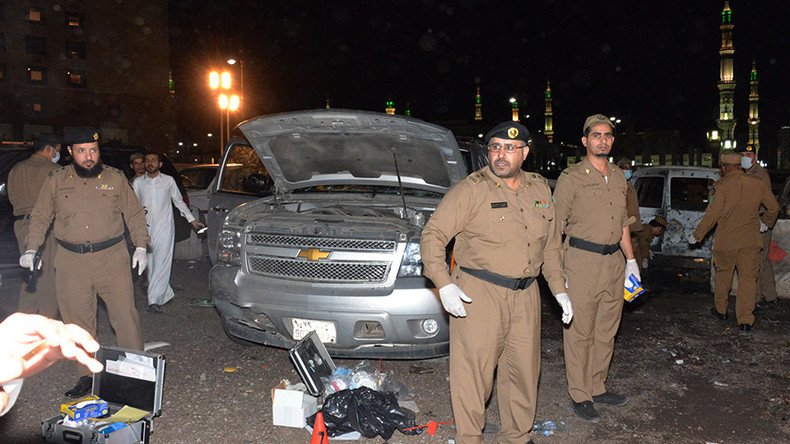 A bomb exploded outside the Prophet's Mosque in the Saudi city of Medina – one of the holiest sites in Islam – on Monday night. Four security officers died and a further five were wounded, reported the country's interior ministry.
WARNING: GRAPHIC VIDEO
Monday is the last night of the holy month of Ramadan, with people breaking their fasts. Thousands had been congregating to hold sunset prayers marking the occasion, which ushers in the beginning of Eid, the biggest festival in the Muslim calendar.
Alongside the four security guards, the suicide bomber himself died in the blast. "The vibrations were very strong. It sounded like a building imploded," Qari Ziyaad Patel, an eyewitness, told AP.
Multiple videos flooding social media showed charred corpses lying next to the burning husk of a car in the mosque's car park, as police and ambulance sirens blared, and hundreds of onlookers filmed footage on their smartphones.
Also known as Al-Masjid an-Nabawi, the Prophet's Mosque is one of the holiest sites in Islam. It was the second mosque ever built, with the aid of Mohammed himself, who lived in a house next door. His tomb is still located there – sealed off from worshipers – and an iconic green-painted dome has been built over it.
Other explosions took place Monday in the port of Jeddah, and Qatif, an eastern city populated by the predominantly-Sunni country's embattled Shia minority.
The Jeddah blast occurred outside the US consulate – the attack on a foreign target in years – and resulted in wounds to two security officers, as well as the death of the bomber.
In Qatif, the explosion was next to a mosque, where people had gathered to evening prayers. So far, only body parts, presumably belonging to the bomber, have been identified.
Although no one has claimed responsibility for the attacks, Islamic State has previously targeted both, Shia worshippers and security forces, in a series of suicide bombings in Saudi Arabia, starting in 2014.
You can share this story on social media: