'They saved 1,000s of lives': Russia mourns crew of firefighter plane that crashed in Siberia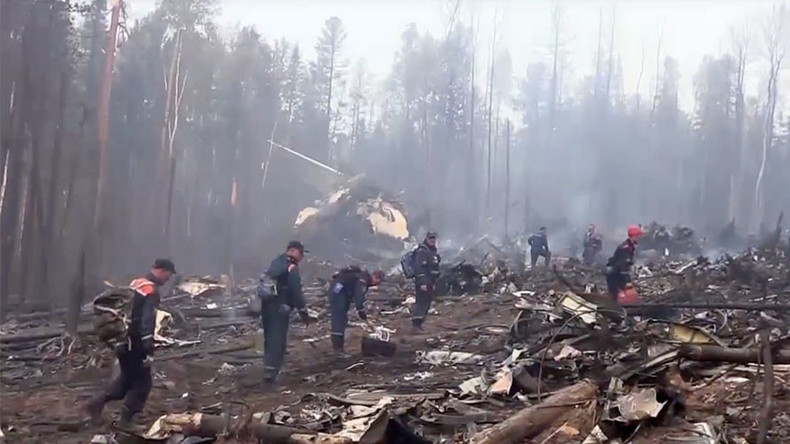 Russia has paid tribute to 10 rescuers who died when their plane crashed while battling forest fires in Siberia. The crew have been proclaimed "heroes of Russia" who "risked their lives to save thousands."
The Russian IL-76 with 10 people on board went missing on June 1 while battling a blaze near the city of Irkutsk in Siberia. A massive search operation was launched to find the missing plane – which had been flying at an altitude of 3,000 meters – with nearly 450 people involved in the rescue effort.
Rescuers discovered the plane and the bodies of the crew on Sunday after almost two days of searching. The rescue operation was carried out in heavy smoke from forest fires in the area.
"Our IL-76 crew perished while battling fire. I think we should have mourning not only in [Irkutsk but across Russia] .These are our heroes and we are all mourning," one Twitter user wrote.
"They risked their lives for our country," "The sky is theirs now," and "They accepted new challenges every time," read other messages left on Russian social media network Vkontakte.
The Russian Emergency Ministry (EMERCOM) said the aircraft, which was equipped with water tanks, was almost completely burnt-out apart from its tail.
The rescue center confirmed that the search party had found one of the plane's black boxes. It is believed that the aircraft crashed into a mountain amid highly concentrated smoke coming from the fires below.
EMERCOM later published a tribute to the crew members. The oldest of them, IL-76 captain Leonid Filin, was 64 years old, while the youngest, second pilot Aleksey Lebedev, was 41.
All of the crew members were said to have been experienced rescuers.
The IL-76 crew had made 33 sorties and dropped more than 1,000 tons of water, the ministry said in a statement, adding that the crew had managed to extinguish "seven major fires in the Irkutsk region, protected 30 towns and villages, which are home to more than 50,000 people."
"The crew were working daily in conditions of strong smoke, heat and difficult terrain."
Russian philanthropist Elizaveta Glinka, who is widely known in Russia as Dr. Liza for her humanitarian and charity work, wrote an emotional post to the crew.
"Filin and his crew saved hundreds of Donbass [eastern Ukraine] children. And thousands around the world. They died heroes," she wrote on Twitter.
Filin had over 11,000 hours of flight experience and the crew in total had flown more than 71,000 hours, EMERCOM told TASS.
"This [IL-76 tragedy] is our collective pain, it's a huge loss for EMERCOM," Russian Emergencies Minister Vladimir Puchkov said. "They went into battle [with the forest fires] to protect people and communities from fire till their end."
READ MORE: Russian IL-76 plane with 10 on board disappears while putting out forest fire in Siberia
Russia's IL-76, nicknamed the "water bomber," is the world's largest firefighting aircraft. It is capable of dumping 42 tons of water at a time.
You can share this story on social media: