'I hope that peace will be here': 10yo girl reports from West Bank to highlight her people's plight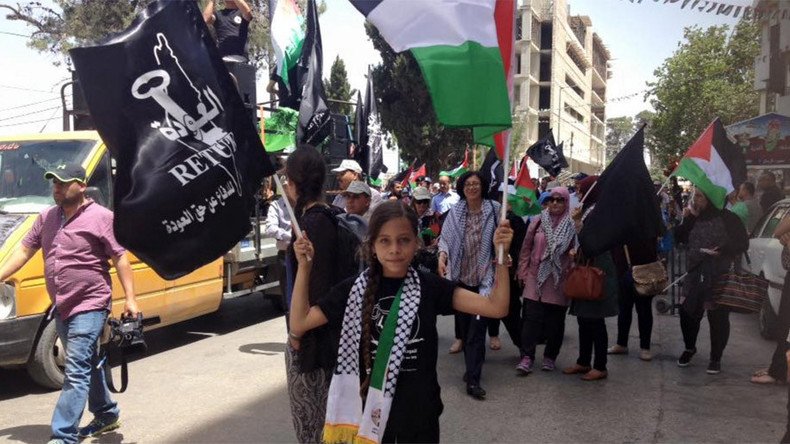 Janna is not your average Palestinian child. While other kids are happily playing, the 10-year-old prefers to take her camera and report from the front lines of demonstrations in the West Bank as she tries to bring Palestine's plight to a wider audience.
Janna Jihad, as she is known, is something of a veteran. She began her reporting career at the age of seven.
"There were not enough journalists covering things that happened, like when my friend was killed and when lots of people were injured. Others were arrested and things like that, and it was not reported by anybody," she told RT.
Janna was referring to the death of her cousin Mustafa, who was killed by a gas canister, while one of her uncles, Rushdie Tamimi, also died after being shot in the stomach by a bullet that pierced his kidney.
It is no coincidence that Janna became interested in journalism, as her Uncle Bilal is a photographer who has captured the violent methods used by Israeli soldiers in the village of Nabi Saleh where they both live.
Just when you thought this mercurial child couldn't have any more surprises up her sleeve, well she does. Not content with just reporting in her native Arabic, she also produces material in English, which she has learnt while studying at school.
"I report in English because English is the world language and I can send my message to the whole world," she mentioned.
Janna, who is in the fourth grade, takes her school work very seriously and would not contemplate missing lessons in order to film material for her blog or reports.
"After school I can go and make a report on any village or any place, but my future is my school and if I don't learn about my history, there will never be freedom, there will never be peace and children in Palestine will not be able to live like those around the world," she told RT.
We smelled a lot of gas
Reporting from demonstrations and protests can be a dangerous occupation, especially when one takes the heightened tensions between the Palestinians and Israeli security forces into account. Janna admits that her size and age makes it easy for her to avoid the soldiers, but says she's had a few brushes with trouble all the same.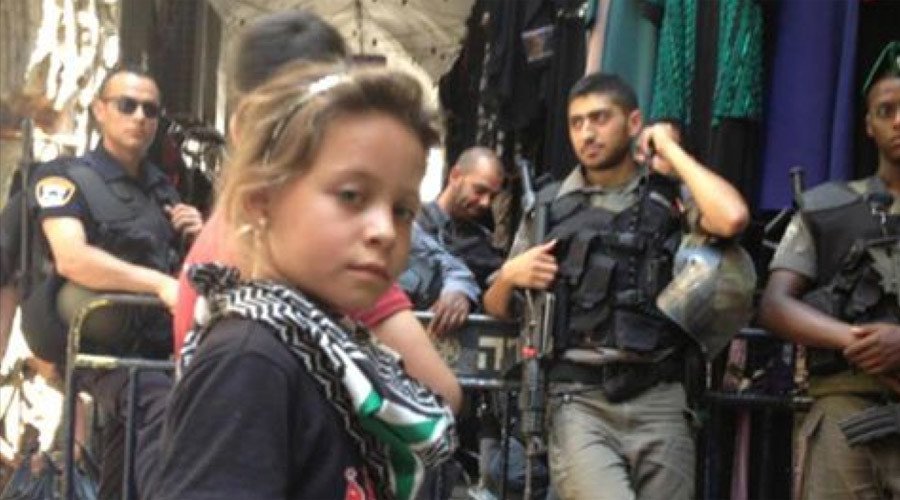 She recalls a protest when Palestinians were trying to reach a spring, but were pushed back by Israeli troops.
"The army began to target us with tear gas, and I felt that we were in a cloud of tear gas. It was a very difficult time for us. We smelled a lot of gas," she said. "In the end we were able to run away, but it was very difficult."
Like any good journalists, Janna learns from her experience and showed an RT film crew some of the essential pieces of equipment she carries with her – like remedies to help her combat the effects of tear gas.
One video in particular shows the brutal world that Janna exists in. She is standing next to a young boy just a year younger than her who is lying on the ground motionless.
"He has been hit by a rocket," Janna explains in her report.
Janna's message is one of peace – something that she hopes will eventually come to Palestine.
"Our God promised us that Palestine would be free one day. I hope that peace will be here and Palestine will be like the whole world," she explained, recalling all the bloodshed and killings that have taken place in recent times.
Janna has had to grow up quickly, and some would say too quickly. The fourth grader admits that she would prefer to be playing with her friends and would rather not "be in a field where there is shooting or killing."
However, she has had to adjust to her surroundings. After she finished speaking to RT, the film crew followed her outside as she approached a group of heavily armed Israeli soldiers. Not even the apparent sound of gunfire could put her off as she approached them to deliver a message.
"Why do come in the night? I can't sleep at night because you are coming every night."
You can share this story on social media: