Beijing announces South China Sea drills ahead of court's verdict on disputed islands
Published time: 3 Jul, 2016 14:37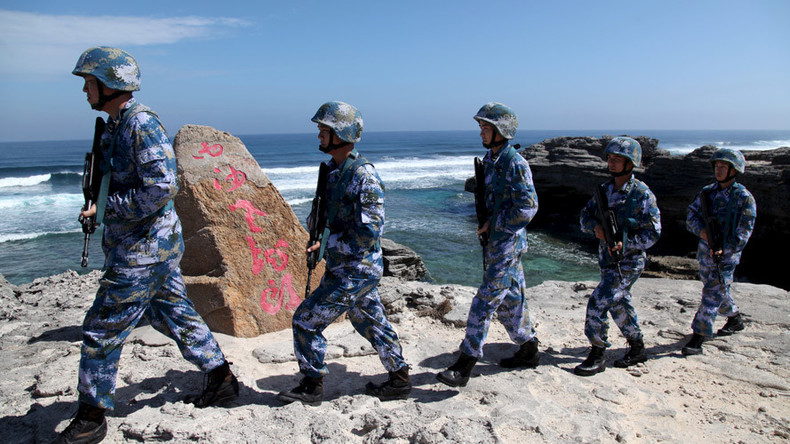 On the eve of The Hague court's ruling on the disputed Paracel Islands in the South China Sea, China's maritime safety administration announced it will conduct routine naval drills in the area prohibiting other ships from entering the waters around them.
The naval drills, which will cover the area east of China's Hainan Island all the way to and including the Paracels, will be held on July 5-11, Reuters reports, citing a brief statement published online.
Beijing's territorial claims to the islands partly overlap those of the Philippines, Vietnam, and Taiwan, while Beijing also has ongoing territorial disputes in the area with Malaysia and Brunei.
An arbitration court in the Dutch city of The Hague will be hearing the dispute between China and the Philippines on July 12.
Over the last years, China has engaged in unprecedented construction of artificial islands and infrastructure on the reefs of the Paracels, preparing a base for its military, a harbor for ships, and even building a full-fledged flight landing strip on Woody Island.
US officials claim that the area is protected by surface-to-air missile complexes that have been delivered by China's military.
Beijing has consistently insisted that it is within its right build whatever it wants on the island, since they have belonged to China since ancient times.
The sea routes passing by the Paracels in the strategically important waters of the South China Sea are key to ship-borne trade worth $US 5 trillion annually.
The shelf of the islands is also likely to hold considerable deposits of hydrocarbons.
After Beijing reclaimed several atolls and built up military installations on the group of disputed islands, Washington accused China of "acting aggressively" in the South China Sea. The US has sent several ships into the archipelago over the past year, arguing that it was enforcing freedom of navigation in international waters, while drawing protests from Beijing.
Chinese President Xi Jinping says Beijing has no plans to attack anyone, but will continue its policy of active defense.
In an apparent barb at the United States, Xi said that he did not appreciate Washington's meddling in China's affairs in the South China Sea, stressing that "we are not afraid of trouble."
"No foreign country... should expect us to swallow the bitter pill of harm to our national sovereignty, security or development interests," he added.