Turkish aid ship sails to Gaza after talks with Israel 'largely lift' blockade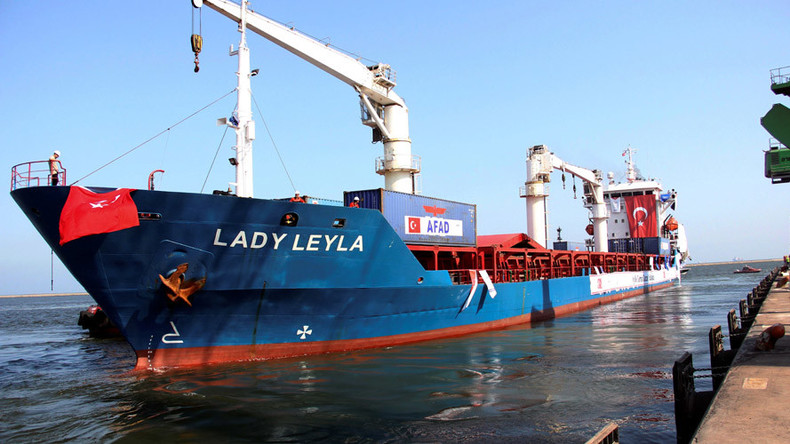 The Lady Leyla, a humanitarian aid ship loaded with 11,000 tons of food, toys, and other supplies, has left Turkey's largest port, Mersin, for Gaza. The sea blockade of the Palestinian strip has been "largely lifted" by a Turkish-Israeli peace agreement.
The Panama-flagged ship is carrying 2,000 tons of rice, five tons of flour, packs of sugar, at least 10,000 toys, and some 10,000 packages of food and aid for children in the Gaza Strip. The goods are expected to be delivered via the Israeli port of Ashdod within 30 hours, the Hürriyet reported.
Lady Leyla received a blessing from Turkish Deputy Prime Minister Veysi Kaynak and Palestinian Ambassador to Ankara Faed Mustafa during a farewell ceremony on Friday. Ibrahim Kalin, Turkey's presidential spokesman, said earlier this week that the ship's departure would be "the first test to see if Israel will play a facilitator role" in calming down the situation in Gaza.
Israel and Turkey reached the long-awaited agreement to normalize ties on Sunday following a six-year hiatus in relations, according to Reuters. The deal finally put an end to a rift that formed after the Israeli Navy killed nine Turkish and one Turkish-American pro-Palestinian activists during a raid on a flotilla carrying aid to Gaza in May of 2010. The Mavi Marmara was among six civilian vessels trying to break the Israeli blockade of Gaza when Israeli troops stormed it. Israel says it needs to maintain the blockade to prevent Hamas from importing weaponry.
Ankara demanded a formal apology from Israel following the incident, as well as compensation for the victims' families. It also demanded that Israel lift the Gaza blockade.
READ MORE: Israel, Turkey reach agreement to normalize ties – Israeli official
Apart from agreeing to Turkey's humanitarian work in Gaza, Israel will reportedly pay $20 million in compensation to the families of the activists killed by IDF soldiers. Turkey in turn, has agreed to approve a law that would put an end to lawsuits from the families of the victims killed in the raid, the Hürriyet reported.
Israel offered an apology and the compensation to bring about a thaw with Turkey, the Times of Israel reported, adding that Ankara is also to invest in infrastructure projects in Gaza under the deal.