Hostage situation as ISIS gunmen attack restaurant in Bangladeshi capital's embassy district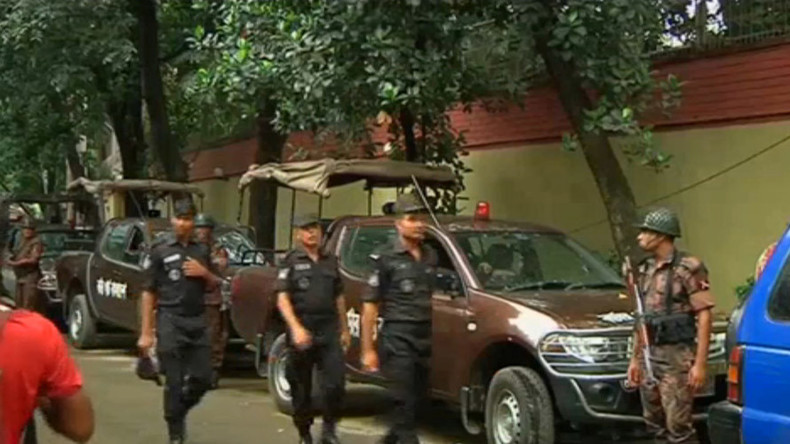 Armed men have attacked a restaurant in Dhaka's diplomatic quarter, taking up to 40 hostages and killing at least 2 police officers. Islamic State has claimed responsibility for the attack.
03 July 2016

07:20 GMT

Bangladeshi Home Minister Asaduzzaman Khan maintains that the Islamists killed during a hostage crisis at a Dhaka restaurant were not members of the Islamic State terror group (ISIS/ISIL).

"They are members of the Jamaeytul Mujahdeen Bangladesh," the minister told AFP, stressing that the terrorists that slaughtered 20 hostages, all of whom were foreigners, "have no connections with the Islamic State." The Jamaeytul Mujahdeen Islamist group has been banned in Bangladesh for over a decade now.

Since the very beginning of the 11-hour siege that ended in the deaths of 26 people, six of whom were terrorists, the government has consistently denied that any internationally-linked terrorists were operating in Bangladesh. A seventh terrorist was arrested and is currently being interrogated.

Minister Khan specifically noted that most of the gunmen that were killed came from wealthy families and had been well educated.

"They are all highly educated young men and went to university. No one is from a madrassa," the minister said, explaining that the young men had become Islamic extremists because "it has become a fashion."

02 July 2016

20:31 GMT

Indian Prime Minister Narendra Modi has called the Dhaka attack "despicable" and said it "pained us beyond words" during his conversation with his Bangladeshi counterpart, Sheikh Hasina.

India stands firmly with our sisters & brothers of Bangladesh in this hour of grief.

— Narendra Modi (@narendramodi) July 2, 2016

17:30 GMT

All the attackers in Friday's deadly attack on the cafe in Dhaka were Bangladeshi citizens, Police Inspector General Shahidul Hoque told CNN on Saturday. He also said that police had previously tried to arrest five of the assailants.

16:35 GMT

The US State Department has confirmed that an American citizen was also among those killed in the terror attack in Bangladesh. "We can confirm that a US citizen was also among those senselessly murdered in this attack," the department said in a statement on Saturday, which gave no further details were given on victim's identity.

15:41 GMT

Thirteen hostages were rescued from the besieged cafe in Dhaka on Saturday, but some had already been killed, according to Bangladesh Prime Minister Sheikh Hasina, who spoke to the nation in a televised speech. She said that six gunmen were killed and one was captured alive in a dawn raid conducted by Bangladeshi commandos. Hasina condemned the attack, calling it a "heinous act" unworthy of a Muslim, especially during the holy month of Ramadan. "Because of the effort of the joint force, the terrorists could not flee. It was an extremely heinous act. What kind of Muslims are these people who kill other humans during Ramadan? They don't have any religion, their only religion is terrorism," Hasina stressed.

15:40 GMT

In an official statement issued on Saturday, French President Francois Hollande expressed support for and solidarity with the Bangladeshi authorities in the wake of the attack on the cafe in Dhaka, while stressing the need to mobilize forces to fight Islamic State (IS, formerly ISIS/ ISIL) terrorists globally.
"Islamist terrorism strikes everywhere. The global community must unite to ruthlessly fight [the terrorists," the statement released by the Élysée Palace read.

15:30 GMT

Seven Japanese citizens have been confirmed dead after the deadly attacks in Bangladesh's capital. The announcement was made by the Japanese Chief Cabinet Secretary Yoshihide Suga.

15:00 GMT

Two students from Emory University in Georgia were among those killed by terrorists. One of the victims, named as Abinta Kabir, was an undergraduate student at the university in Atlanta from Miami, Florida. She was in Bangladesh to visit family and friends. The second student was named as Faraaz Hossain, who was from Dhaka.

Our thoughts and prayers go out on behalf of Faraaz and Abinta, their friends and family for strength and peace at this unspeakably sad time

— Emory University (@EmoryUniversity) July 2, 2016

"The Emory community mourns this tragic and senseless loss of one of our university family. Our thoughts and prayers go out on behalf of Abinta and her family and friends for strength and peace at this unspeakably sad time," a statement on the university's website read.

"Our thoughts and prayers go out on behalf of Faraaz and Abinta, their friends and family for strength and peace at this unspeakably sad time," the university also tweeted.

14:12 GMT

Bangladesh's prime minister, Sheikh Hasina Wazed, has declared two days of national mourning for those who died in the deadly attack on a cafe in the country's capital city of Dhaka, according to Reuters.