Moscow quiet on alleged proposal for US-Russia military partnership in Syria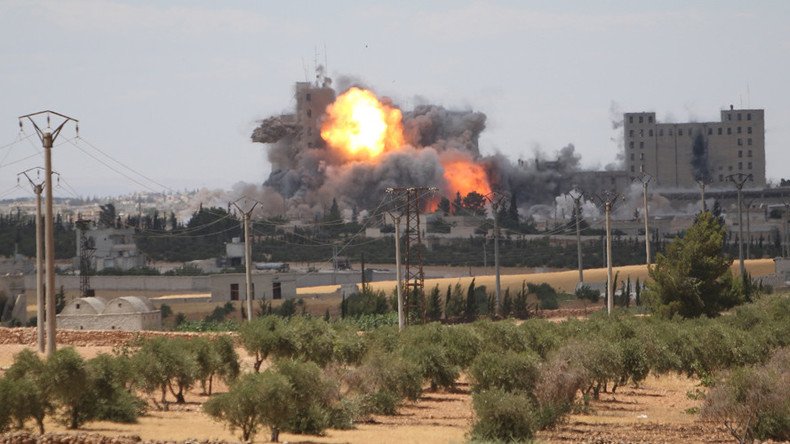 The Kremlin has refused to comment on reports in the US media that Washington proposed a new military agreement on Syria. The alleged deal aims to boost US-Russian ties against terrorists in exchange for Moscow pushing Damascus to stop bombing US-backed rebels.
"I won't comment on that," said Russian presidential spokesman Dmitry Peskov, as reported by TASS.
According to the Washington Post, the "crux of the deal is a US promise to join forces with the Russian air force to share targeting and coordinate an expanded bombing campaign against Jabhat Al-Nusra [Al-Nusra Front], Al-Qaeda's branch in Syria, which is primarily fighting the government of Syrian President Bashar al-Assad."
It added that under the proposal, "which was personally approved by President Obama and heavily supported by Secretary of State John F. Kerry, the American and Russian militaries would cooperate at an unprecedented level, something the Russians have sought for a long time."
Citing an unnamed Obama administration official, the newspaper reported that Washington gave the text of the proposed agreement to Moscow "after weeks of negotiations and internal Obama administration deliberations."
Washington reportedly wants Moscow to "agree to pressure the Assad regime to stop bombing certain Syrian rebel groups the United States does not consider terrorists." The Washington Post reported that under the proposal, the US "would not give Russia the exact locations of these groups but would specify geographic zones that would be safe from the Assad regime's aerial assaults."
Meanwhile, the head of the Russian General Staff, Valery Gerasimov, said that Washington still hasn't provided a list of groups it considers terrorist, allowing jihadists to regroup and escape Russian-led air raids on their positions.
"As a result, terrorists in Syria are actively regrouping and tensions are soaring again. It cannot continue this way indefinitely," Gerasimov said last week, adding that the Russian Defense Ministry has supplied the US with a list of its terrorist targets for the next three months.
Gerasimov's comments came in response to a statement from Kerry in which he complained that Washington is running out of patience regarding truce violations in Syria. The ceasefire brokered by Russia and the United States in February does not include Al-Nusra Front and Islamic State (IS, formerly ISIS/ISIL) positions, as well as other formations considered to be terrorists by the United Nations Security Council.
"Russia needs to understand that our patience is not infinite. In fact, it is very limited with whether or not Assad is going to be held accountable," the US secretary of state said. "It is very clear that the cessation of hostilities is frayed and at risk, and that it is critical for a genuine cessation to be put in place," he added.
"If anyone's patience on Syria is waning, it is ours, not the United States," the head of the Russian General Staff replied in response to Kerry's statement. "We are in full compliance with our obligations to maintain the ceasefire and ensure national reconciliation in Syria. The American side always has problems with the 'opposition under its control,'" Gerasimov noted.
"Our US partners are still undecided where there are opposition forces and where there are 'turncoats' from international terrorist organizations," he added.


You can share this story on social media: