Rostov rainstorm: Flash flooding devastates southern Russian city (PHOTOS, VIDEOS)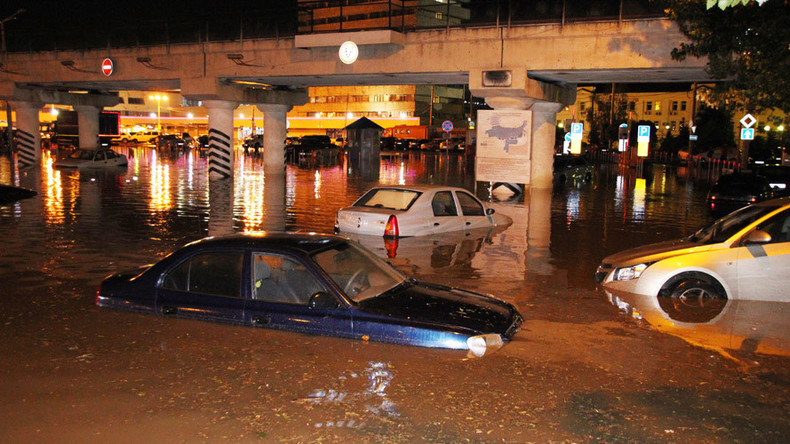 Torrential rain streaming in the southern Russian city of Rostov-on-Don caused havoc on the streets, killing one person and leaving about a dozen others injured. Hundreds of cars and businesses were destroyed in the deluge.
"One person, a 14-year-old girl, died after being dragged underneath a car by the torrent," TASS cited an official as saying.
Four people out of the 11 who sought medical attention remain in hospital in a satisfactory condition, the official said. Among them is a 16-year-old who was struck by a broken high-voltage electricity cable.
The thunderstorm in Rostov-on-Don started on Thursday evening, accompanied by storm winds of up to 90kph.
The downpour flooded the streets of Rostov-on-Don, a city of well over a million inhabitants.
Hundreds of cars either were flooded to rooftop or floated on the streets, mounting up in heaps once the water levels began to go down.
Power lines were damaged by fallen trees and streams of water in multiple places, leaving thousands without electricity for many hours.
A state of emergency was declared with hundreds of rescue and repair teams working on the streets all night through to repair the damage.
Ground floors of large buildings and countless private households got flooded in the city and the suburbs. The total damage is yet to be estimated by the authorities.
The streams of water caved in foundations of several buildings, rendering at least one house uninhabitable.
Electricity supply has still not been restored in the city in full.
Rostov-on-Don's central railway station became flooded by the rain, together with most underground walkways in the city's downtown.
Many intercity routes got blocked, some trains heading to and from Rostov-on-Don were delayed by several hours.
City authorities have set up an emergency headquarters to deal with the disaster.
The region is expected to be hit by further rainfall on Friday.
You can share this story on social media: