'Disciplined army, able to win': China President Xi Jinping states strategic military goal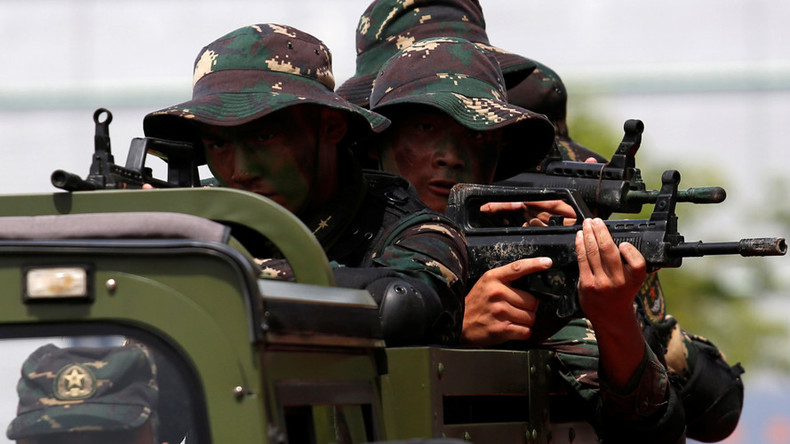 Chinese President Xi Jinping says China needs to create a modern and disciplined army that would defeat potential opponents. The Chinese leader said Beijing had no plans to attack anyone, but would continue its policy of active defense.
Xi was speaking on the 95th anniversary of the founding of the Chinese Communist Party. In a warning to potential enemies, he said that Beijing must create armed forces that are capable of defending its interests.
"Creating an army that corresponds to the international status of our country is a strategic goal," Xi stated, as cited by RIA Novosti.
"We should put together economic and defense development, modernize the army to make it contemporary and standardized… We should comprehensively promote the military reform to create an army that will be disciplined and able to win," he added.
Xi mentioned that the upgrading of China's armed forces is part of its policy of active defense and that Beijing has no plans to attack anyone.
"We will not show up at other people's front doors to flex our muscles. That does not show strength or scare anyone," he said, according to AFP.
The modernization of the Chinese army has been a strategic goal for Beijing. Earlier this year, Xi announced that 300,000 jobs in the armed forces would be cut, but that would still leave China with a standing army of around 2 million.
"We will work to make the military more revolutionary, modern and well-structured in every respect, and remain committed to safeguarding national security," Premier Li Keqiang said in March, as cited by Reuters.
Although defense spending only received an increase of 7.6 percent for 2016, its lowest rise in six years, China is still eclipsing all other nations - with the exception of the US - in regards to how much it spends on defense.
Xi made an apparent barb at the United States, saying that he did not appreciate Washington meddling in China's affairs in the South China Sea, mentioning that "we are not afraid of trouble."
"No foreign country... should expect us to swallow the bitter pill of harm to our national sovereignty, security or development interests," he added.
In May, China said that interference from outside countries was the "greatest threat to peace and stability" and the reason for tensions in the South China Sea, while Beijing has said it would never relinquish sovereignty over islands it claims in the region.
The South China Sea is particularly sensitive as it is a major shipping route which sees billions of dollars of trade pass through its waters ever year.
Last month China even hinted at launching an air defense identification zone (ADIZ) in the South China Sea.
"If the US military keeps making provocative moves to challenge China's sovereignty in the region, it will give Beijing a good opportunity to declare an ADIZ in the South China Sea," the source told the South China Morning Post.
You can share this story on social media: