We must act to prevent countries from fleeing EU – Merkel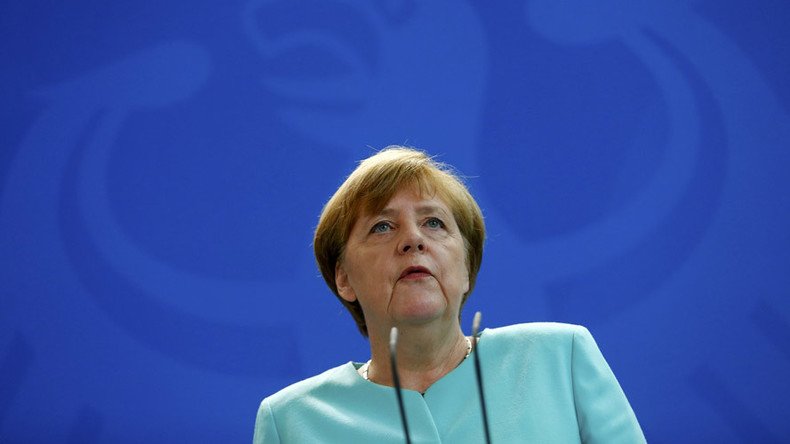 German chancellor Angela Merkel says action is needed to prevent other EU members from leaving the bloc after Britain.
Post-Brexit world: Financial downturn, political turmoil & protests
The remark was made at Merkel's conservative party's board on Monday, according to two participants who spoke to Reuters.
She also touched upon market uncertainty provoked by the UK referendum on leaving the EU. Merkel said there is concern in the international financial markets that Brexit is a sign of the European Union no longer being governable.
The Chancellor reportedly said this was not the time for deepening cooperation between member states, arguing instead for the need to focus on ever-present issues facing the union, chief among them being border security, international security and the creation of jobs at home.
And according to Merkel's spokesman, Britain hasn't really left until it invokes Article 50 of the EU treaty pertaining to members leaving before any informal talks on the conditions for its departure are had. According to the spokesman, "if the [UK] government needs a reasonable amount of time to do that, we respect that."
"One thing is clear: before Britain has sent this request there will be no informal preliminary talks about the modalities of leaving," spokesman Steffen Seibert told a news conference.
The UK's 'Brexit' vote has left many speculating it could have a domino effect across Europe, with Euroskeptic politicians gaining ground and polls showing at least eight more countries could 'want out' of the EU.
Now the six founding members of the EU want the UK to leave the bloc as soon as possible, as became clear at their meeting on Saturday. "Negotiations have to go quickly in the common interest," French Foreign Minister Jean-Marc Ayrault said. He added it was imperative to move quickly as the other 27 members needed to give the EU new purpose or there could be a growing risk of populism.
Ayrault believes Europe risks uncertainty that would be followed by economic and political consequences.
A joint statement from the founding nations – France, Germany, the Netherlands, Italy, Belgium and Luxembourg – said they want a prompt decision from the UK.
German Chancellor Angela Merkel demonstrated a more cautious approach, calling on her European counterparts not to pressure the UK by insisting on its immediate departure from the bloc.
"Quite honestly, it should not take ages, that is true, but I would not fight now for a short time frame," Merkel said.
An awakening of far-right and Euroskeptic sentiment has also been felt. Norbert Hofer, who narrowly failed to become the EU's first far-right head of state in last month's presidential run-off in Austria, has warned his country could hold its own 'Auxit' referendum within a year.
Last year, 260,000 Austrians signed an EU exit petition, forcing a referendum debate in parliament. A survey conducted this year showed that the majority of those in favor of 'Auxit' are supporters of the Freedom Party, and with the party's popularity growing steadily ahead of parliamentary elections in 2018, it's possible that the number of those supporting an Austrian departure from the bloc could grow as well.
Almost exactly a month ago, France's rightist Marine Le Pen of the National Front likewise threatened that the union was on the verge of collapse. And according to a March poll, 53 percent of French citizens surveyed would like to hold a Brexit-like referendum on France's membership in the EU.
You can share this story on social media: