Post-Brexit world: Financial downturn, political turmoil & protests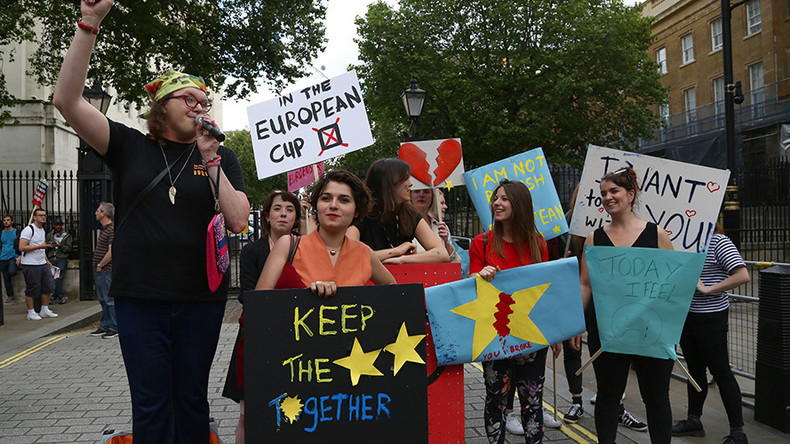 Britain's unprecedented vote to leave the EU has caused a furor across the world, with stocks plunging amid financial and political uncertainty. Thousands have vowed to protest the results of the British referendum.
27 June 2016

12:27 GMT

There could be a real clash coming in Scotland. The devolved government there said it will seek the widest possible backing in the Scottish parliament to keep its ties with the European Union following last week's British vote to leave the EU.

Calls for a second Scottish independence referendum have grown since Britain as a whole voted to leave the EU last week, despite a large majority of Scots supporting staying in the EU.

SNP leader Nicola Sturgeon described that as "democratically unacceptable".

12:18 GMT

The SNP in Scotland has seen an opportunity in the aftermath of Brexit, and is already pushing for a second independence referendum north of the border. But it appears Downing Street is already looking to stamp on that idea.

11:59 GMT

Amid all the in-depth analysis going on across the world, is this perhaps the most concise illustration of the situation yet?

11:47 GMT

With all the resignations coming from Labour's shadow cabinet, it's perhaps no surprise that the Guardian newspaper is now quoting a source close to Jeremy Corbyn saying a leadership election is now pretty much inevitable.

11:18 GMT

Close your eyes Mr Corbyn, another one's gone. Angela Eagle, one of the biggest names yet to resign yet, also reportedly asked Corbyn to resign too.

10:55 GMT

Those resignations keep on coming for Jeremy Corbyn's shadow cabinet. This time the shadow Energy Secretary, and the shadow Work and Pensions Secretary are gone.

10:20 GMT

Labour's deputy leader Tom Watson has reportedly piled the pressure on Jeremy Corbyn. While BBC reports that he had told Corbyn to resign have been denied, he did reportedly tell Corbyn he has "no authority" and is facing a leadership challenge.

10:11 GMT

Roberta Blackman-Woods becomes the latest Labour MP to resign from Jeremy Corbyn's shadow cabinet.