Moscow to respond with similar measures to US restrictions on Russian diplomats – Foreign Ministry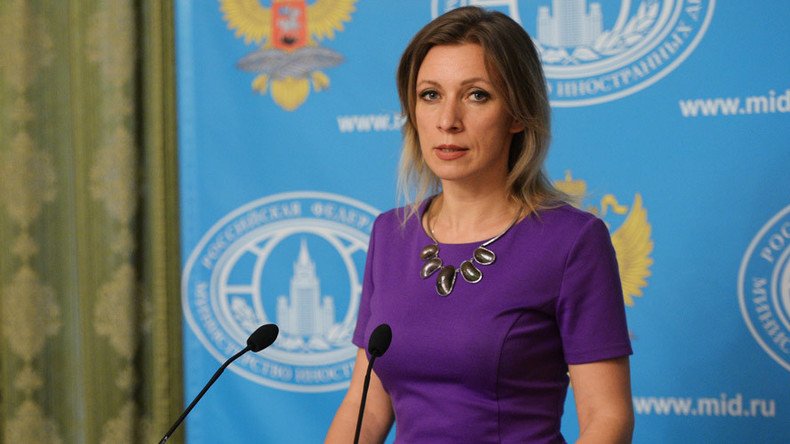 Moscow will respond to the proposed travel restrictions on Russian diplomats in the US, Maria Zakharova, Russia's Foreign Ministry spokeswoman, has said.
"The US authorities have taken a course towards the tightening of the existing notification regime that existed for decades for the trips of Russian junior and medium-level diplomatic staff to distances of 25 miles (40km) away from the center of the city in which the relevant representative office is located," Zakharova said on Thursday.
"If Washington really decides to break the existing agreements, we'll naturally act in a mirror-like manner and impose similar restrictions on US diplomats in Russia," the spokeswoman said.
Zakharova added that the employees of the Russian diplomatic missions "are subject to regular provocations by the US intelligence agencies as they face obstacles in the implementation of official contacts and other restrictions."
"Such cases are frequent. We don't speak about them in public, but always inform the US side of our concerns," she said.
The 2017 Intelligence Authorization Bill, which was passed by the Senate Intelligence Committee in May, among other measures, proposes restrictions on travel by Russian diplomats in the US.
The legislation would require the FBI to investigate all requests by US-based Russian diplomats to travel outside his or her official post, in order to ensure the diplomats have properly notified the US government of their travel plans.
No Russian diplomats would be allowed to travel outside the radius unless all of their colleagues had followed the travel rules in the previous three months.
The FBI would be required to notify Congress that the diplomats have followed the rules before the travel is cleared by the State Department.
State Department spokesperson Pooja Jhunjhunwala explained the proposed restrictions to BuzzFeed by the fact that Russian diplomats were bending the rules.
"The Russians tend to notify [the] State Department at 5pm on a Friday" about their travel plans, leaving the FBI no time to investigate their route, Jhunjhunwala said.
"We don't have the kind of manpower the Russians do, to run 24/7 tails on everyone. I don't think a diplomat's secretary could leave the [US] embassy [over there] without being followed," the spokesperson added.
The 2017 Intelligence Authorization Bill also proposes the reinstatement of a Cold War-era committee aimed at cracking down on "covert influence" by Russia and considers a US exit from the Open Skies treaty.
The legislation must be approved by the full Senate in order to be passed, with the vote expected before the summer Senate recess which begins on July 18.
You can share this story on social media: