Danish youth party performs song calling Obama 'talentless negro' in front of US envoy
Published time: 20 Jun, 2016 18:08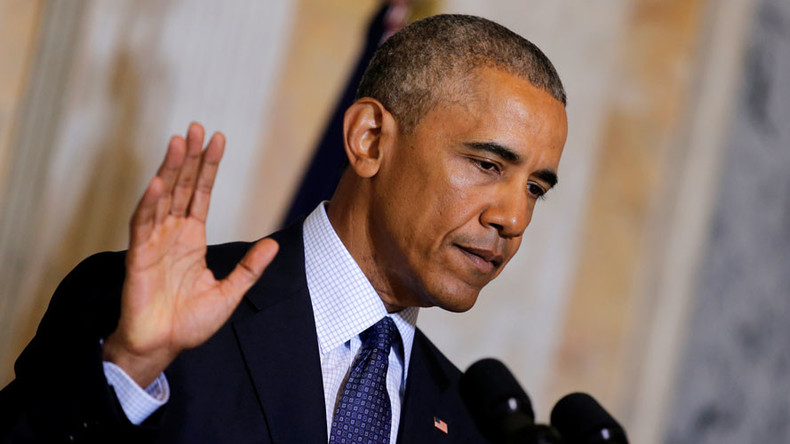 A Danish youth party didn't pull any punches by writing and performing a song which called US President Barack Obama a "negro" who is "without talent." The party was pressured to apologize for the lyrics, which were sung in front of a US ambassador.
The bold lyrics were written and performed by the Dansk Folkepartis Ungdom (DFU) – the youth branch of the Danish People's Party – at the annual People's Meeting (Folkemødet), held on the island of Bornholm.
The party described the tune as a "festive and humorous" song about the upcoming US presidential election, which declared the party's support for Donald Trump and made comments about Obama's race, The Local reports. The lyrics read, in part:
"There is Obama, and he's negro
And without talent, and he is no bro
Make America great again with Trump"
The song was posted in its entirety on Facebook by journalist and political commentator David Trads, who called on the youth party to apologize – especially since the song was sung in front of US Ambassador Rufus Gifford, who previously worked as finance director for Obama's re-election campaign in 2012.
"I hope the Danish People's Party leaders will publicly apologize for its youth party's misplaced and idiotic behavior in front of Obama's friend and official representative but it is probably too much to ask. Unfortunately," Trads wrote.
However, as Trads' Facebook post circulated online, the party did issue an apology.
"It wasn't the intention to hurt or insult the American ambassador, Obama's friend for many years, and I bitterly regret that we used that terminology in what was meant as a funny reference but was misunderstood and did more harm than good," DFU National Chairman Lucas Hultgren said, adding he has "the utmost respect" for both Gifford and Obama.
The youth party said the song was in reference to the "farce" surrounding a recent incident in which Danish People's Party first veteran DFer Søren Espersen defended his use of the word "negro" when referring to a much criticized all-white campaign by the party.
Gavin Sundwall, a spokesman for the US Embassy in Copenhagen, told The Local that the embassy accepts the youth party's apology.
"The DF Ungdom apologized and realized that the term they used is very offensive to many Americans. We accept their apology and hope that they refrain from using offensive terms in the future," Sundwall said.
The Danish People's Party is generally described as right-wing, and often as a far-right. Its stated goals are to protect the freedom and cultural heritage of the Danish people while limiting immigration and promoting cultural assimilation to those who move to Denmark from other countries.