Russian defense minister meets Assad, inspects Khmeimim airbase in Syria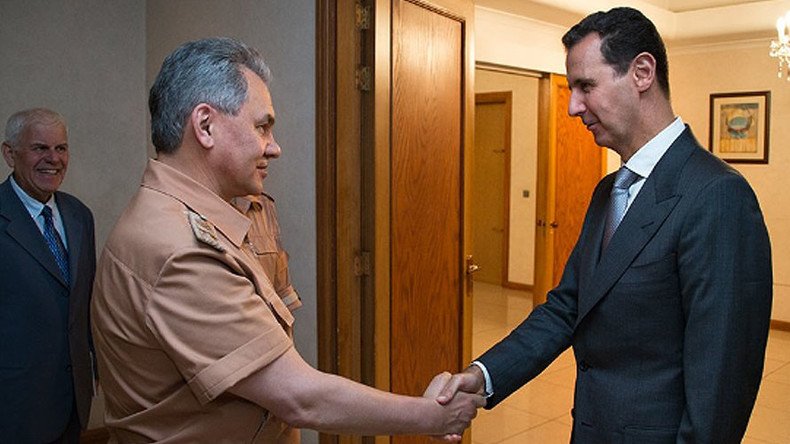 Russia's Defense Minister Sergey Shoigu has visited Syria where he met with President Bashar Assad and inspected the Khmeimim air base, the Russian military said on Saturday. Shoigu and Assad discussed military cooperation and fight against terrorism.
Shoigu has met with the Syrian leader upon the request of Russian President Vladimir Putin, Defense Ministry's spokesman Major-General Igor Konashenkov said in a statement.
"Topical issues concerning military cooperation between the two countries' defense ministries, as well as certain aspects of cooperation in the fight against terror groups that are active on Syrian territory, were discussed at the meeting," Konashenkov said.
The minister inspected Russian Khmeimim air base in Latakia Province and also inspected the S-400 anti-aircraft missile system deployed there.
The visit was not previously announced.
Shoigu ordered the commander of the Russian reconciliation center to further encourage local administrations and fighters to cease fire and join the peace process.
"The defense minister ordered the commanders of the air base to boost comprehensive support to the locals, especially in the areas blocked by terrorists," Konashenkov added.
Speaking at the St. Petersburg International Economic Forum on Friday, Putin said that maintaining Syria's integrity must be the top priority and warned that the disintegration of the Middle Eastern country would be a "destabilizing factor not only for the region, but for the whole world."
"We must act carefully, step by step, aiming to establish trust between all sides to the conflict," the Russian president said, adding that a new and effective government could be formed in Syria once this trust is finally built. A political process is the only way to reach peace, Putin said, stressing that Syrian President Bashar Assad "also agrees to such a process."
"If we want to promote the principle of democracy, let's do so with democratic instruments," Putin told the forum, while cautioning that it will be a "complicated process that will take time."
The Russian military has been conducting an anti-terror operation in Syria at the request of Damascus since September 30, 2015. The Russian airforce has been carrying out airstrikes against Islamic State, Al-Nusra Front and other groups designated as terrorist organizations by the United Nations. On March 14, 2016, Putin ordered that the main part of Russia's forces in Syria be withdrawn, saying that the operation had achieved its goals.
You can share this story on social media: