94yo Nazi SS Auschwitz guard sentenced to 5ys in prison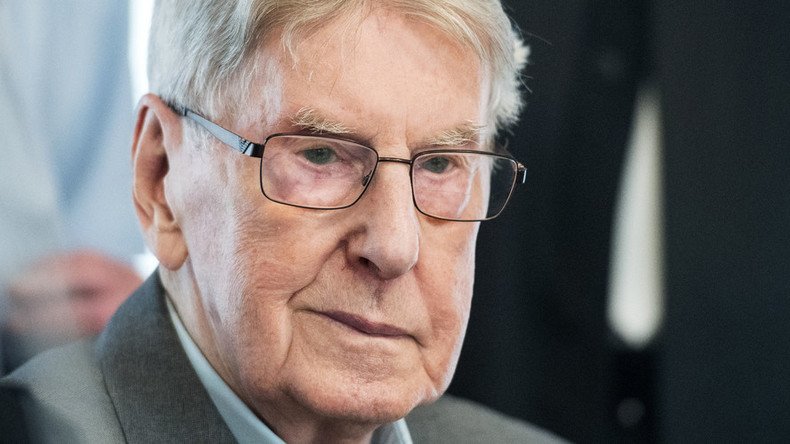 A former SS Auschwitz guard, 94, has been sentenced to five years in prison for his involvement in at least 170,000 murders at the Auschwitz concentration camp.
Germany's District Court of Detmold handed down the sentence to Reinhold Hanning on Friday after a four-month trial which heard harrowing testimonies from victims.
"The mass murders were carried out over two and a half years in Auschwitz," Judge Anke Grudda said at the beginning of the verdict, Der Spiegel reports.
Grudda sentenced Hanning, who was 23 when he started two years of work at the concentration camp in 1942, to five years jail for being an accessory to murder of 170,000 people.
The prosecution had sought six years imprisonment, claiming Hanning had watched over how prisoners were selected for the gas chambers and accused him of being aware of the regular mass shooting of inmates at the camp, as well as the systematic starvation of prisoners.
Meanwhile, the defense demanded his acquittal. "Hanning, at no time, had people killed, beaten or helped [to do it],"said his lawyer John Salmen.
Hanning apologized to victims in April, breaking his silence for the first time.
"No-one in my family knew that I worked at Auschwitz. I simply could not talk about it. I was ashamed," he told the court. "I am sorry."
The World Jewish Congress (WJC) welcomed Friday's verdict.
"This trial came decades late, but we welcome the fact that it took place, and we are glad that the court allowed for many Auschwitz survivors to be heard," WJC President Ronald S. Lauder said.
"Mr. Hanning got a fair trial, and today's verdict is very clear: He was complicit in mass murder. He was part of a merciless killing machine. Without the active participation of people like him, Auschwitz would not have been possible."
Lauder said that Hanning and many of his former comrades were "allowed to lead peaceful lives" for decades after committing atrocities, with many never answering for their crimes.
The verdict had been greatly anticipated as is expected to bring to an end one of the last trials of its kind.
You can share this story on social media: