Wreckage of crashed EgyprAir jet found at 'several locations' – investigation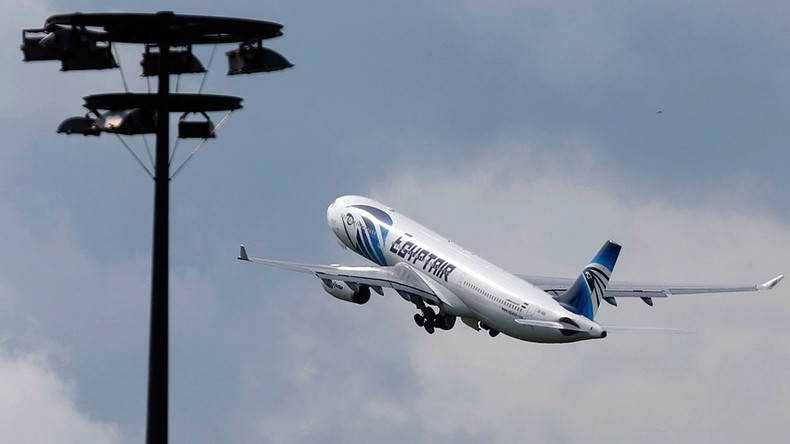 Wreckage from the EgyptAir jet that crashed in the eastern Mediterranean with 66 people on board in May has been located, the Egyptian-led investigation committee said. The search is now focusing on its black boxes, as their signals are to cease on June 24.
The John Lethbridge, a search boat contracted by the Egyptian government, spotted the wreckage at "several main locations." The searchers managed to snap the first pictures of the debris and provide them to the investigation committee.
"The search team and investigators onboard of the vessel will draw a map for the wreckage distribution spots," the Egyptian Aviation Ministry said, without specifying the exact location or which parts of the plane had been found.
This is a major update on the search mission for EgyptAir Flight MS804, which crashed in the Mediterranean on May 19.
Two days after the tragedy, the Egyptian search mission spotted the first debris from EgyptAir Airbus A320 290 kilometers north of Alexandria, Egypt, as well as the human remains and belongings of some of the passengers.
The search is presently focusing on locating the plane's two "black boxes" that should hold answers as to what downed the Cairo bound flight with 66 people on board. So far, it has been speculated that a mechanical fault, a hijacking, or a bomb may have led to the crash. However, none of those versions has been proven. On May 24, Egypt denied reports that human remains retrieved from the Mediterranean Sea and examined by a team of experts point to an explosion.
READ MORE: EgyptAir crash: Forensics chief dismisses reports of human remains pointing to onboard explosion

The flight data recorders – one containing voice recordings and the other data – are believed to be buried in the seabed.
It is now even more crucial to intensify the search, as the team has less than 10 days before the boxes stop sending signals, or pings, on June 24. Normally, the flight data recorder and cockpit voice recorder have enough battery power to emit pings for four to five weeks.
Earlier in June, Egypt hired the John Lethbridg from Mauritius-based Deep Ocean Search to comb the Mediterranean floor in search of the flight recorders.
Equipped with an underwater robot and a side scan sonar, the vessel is capable of probing as deep as 3,000 meters (9,842 feet), the depth at which the plane is believed to be.
READ MORE: French vessel detected signals presumed to come from EgyptAir MS804 black boxes – investigators
On June 1, a French ship Laplace detected signals deep under the Mediterranean Sea that were believed to be from one of the black boxes of EgyptAir Flight MS804.