'Turkey the only one supporting us': Syrian rebel siding with Islamists on Ankara's role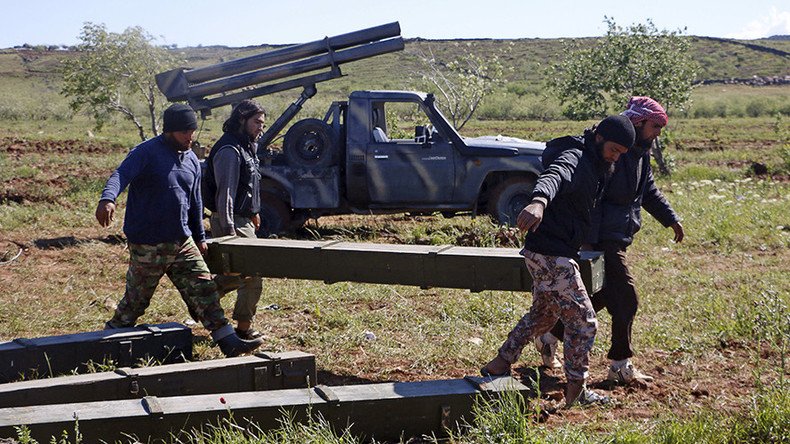 While civilians who still live on the Turkish-Syrian border suffer from Islamic State attacks and blame Turkish army inaction, so-called moderate rebels of the Free Syrian Army, fighting side-by-side with Islamist extremists, openly admit Ankara's support.
READ MORE: ISIS digs trenches, plants mines on Syrian border as Turkish military looks away (EXCLUSIVE)
RT's Lizzie Phelan visited the Turkish town of Karkamis, located on the border with Syria just opposite the area controlled by Islamic State (IS, formerly ISIS/ISIL). She spoke with locals residents, refugees and militants, who described the role Turkey has allegedly played in fostering and supporting both Syrian rebels and Islamist extremists.
Many Karkamis residents were forced to flee the town and find a home elsewhere because of the danger they faced from ISIS attacks across the border.
Turkey's efforts to increase security, which were largely limited to building a wall that cut off the local cross-border trade, have led to majority of shops being boarded up and abandoned, Lizzie Phelan reported from the town.
Those who stayed include Syrian refugees who managed to escape ISIS jihadists in Syria. However, they do not believe the danger is over, as ISIS shells and bullets reach them even in Turkey's Karkamis.
Aysel Yilmaz, a refugee from the Syrian town of Jarablus, spoke to RT and described her lucky escape from across the border, adding that she still feels very unsafe. Yilmaz said she was seriously wounded while visiting her father's grave in Karkamis. The bullet came from ISIS fighters shooting from Syria.
"We were by my father's grave right over there, they fired shots from the other part and I got hit. There were some people trying to escape from the other side, they were the target but I was also hit," Yilmaz said. "I was treated in hospital, at first for 15 days, and then again for another 10 days. I had surgery twice, my lung was wounded. I still suffer so much."
A very contrasting account was given to Phelan by a fighter from the Syrian opposition, who openly admitted receiving help from Turkey and seamlessly crossing into Syria every two weeks. The conversation also gives an insight into how casual the relations of the so-called moderates are with Islamist groups siding with internationally recognized terrorists, but not recognized as terrorists by Turkey or the West.
"Turkey is the only one supporting us. We are very grateful for their help," the fighter told Phelan.
When asked what groups he is fighting along, the man mentioned "Jabhat Al Shamiye, the Sultan Murad Division, the Sham Legion and Ahrar al-Sham."
Ahrar al-Sham has been accused of slaughtering civilians around Aleppo earlier in June, while Russia has repeatedly pointed to the groups' brotherly ties with Al-Nusra Front terrorists.
Turkish journalist and columnist for Al-Monitor Fehim Tastekin told RT that Al-Nusra uses other groups, such as Ahrar al-Sham, as proxies to distribute weapons "coming from Turkey." Tastekin added that "they also share money in the same way."
READ MORE: Over 20 killed, scores injured in Al-Nusra & Ahrar al-Sham shelling of residential Aleppo – MoD
Reports of the Turkish government's ties with Islamic State have surged in recent months, with some alleging that Erdogan is supporting the terror group so that it would help remove his geopolitical rival, Syrian President Bashar Assad.
Others point out that Turkey chooses to be involved in the Syrian conflict to beat Kurdish fighters, who are one of the few successful forces when it comes to battling against Islamic State.
"[Kurdish fighters] didn't attack Turkey, instead, they secured our borders against ISIS, and we need to thank the Kurdish fighters. Turkey's fear is baseless and because of that policy, Turkey is indirectly helping ISIS. Turkish policy is also delaying the elimination of ISIS. This is not an option which is beneficial for us, for Turkey, for the region, for the people of Syria," Tastekin said.
In Phelan's previous report from the Turkish-Syrian border, she spoke to witnesses in Karkamis, who revealed that the Turkish military has been ordered to ignore Islamic State's activities on the border, allowing the jihadists to dig trenches and plant mines.
In March, an RT Documentary crew visited Shaddadi along with other towns in northern Syria. The trip was scheduled shortly after the towns' liberation from ISIS fighters. Upon arriving, the journalists discovered invoices detailing the large-scale illegal oil trade carried out by jihadists with Turkey, as well as Islamist propaganda brochures printed in Turkey.
The RT crew also managed to get footage of passports of deceased and escaped jihadists, who had stamps issued at Turkish border checkpoints, proving that they crossed into Syria through Turkey.
Another report from May showed that Islamic State militants injured on the Syrian battlefield regularly traveled to Turkey to receive costly and complicated medical treatment. The information was leaked via tapped phone calls and was handed to the media by opposition MP Erem Erdem.
You can share this story on social media: