Close call: Drone narrowly avoids 1km-high collision with plane over Canada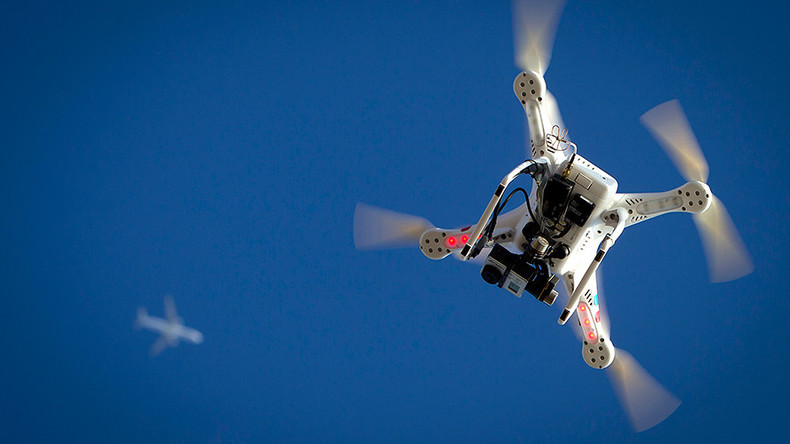 A drone has near-missed a passenger plane at an unusually high altitude of over 900 meters, coming within just 25 meters of the aircraft landing in Winnipeg, Manitoba. Police are investigating amid renewed calls for restrictions on flying UAVs.
A police unit was dispatched to the Winnipeg James Richardson International Airport at around 2:45 p.m. local time Saturday after Nav Canada, an air navigation provider, reported the incident.
Local authorities searched the area the drone could have been launched from with no success. The UAV operator has not yet been identified. Reports suggested that the drone could have been operated from the University of Manitoba campus.
"Radar plots provided by Nav Canada indicate that... the controlling person was likely near the University of Manitoba. From a bird's eye view that could be either side of the river," Winnipeg Police Service Const. Rob Carver said.
READ MORE: 'Only a matter of time': First-ever drone collision with passenger plane reported in UK
More concerning for police was that the drone in question was able to climb to a surprisingly high altitude, dangerously close to the plane. That is something an average consumer drone should not be able to achieve.
"This isn't just your average hobby drone. It was able to go to 3,000 feet [915 meters], which is unusual," Carver said.
"Whoever was operating this UAV put it up into a flight path. This wasn't somebody taking pictures of a baseball diamond," Carver said. "Not only does it contravene all sorts of Transport Canada rules and regulations regarding UAVs, a slight error could have put this into collision with the aircraft, which could have been catastrophic."
Police are not in charge of watching over air traffic, but officers are responsible for finding the operator on the ground. "We're not in the business of managing air space over Winnipeg, but certainly someone on the ground was directing this, which is why we come into play," Carver said.
Transport Canada sets restrictions on the altitude, purpose, size and area of use of drones and forces operators to receive a Special Flight Operations Certificate.
Cases like this one have surged in numbers, as governments struggle to roll out appropriate regulations for UAVs. This rising number of near misses has been attributed to an increasing use of consumer-operated drones.
In the United States, for example, the FAA reported in August 2015 that drone sightings by passenger aircraft had doubled on a year before.
In May, the European Aviation Safety Agency (EASA) announced an urgent need to assess the extent of the growing safety risks associated with technology. The EASA will lead an inquiry into a number of hazards and safety measures associated with planes and drones.