Police deploy pepper spray as left & right activists clash in Vienna (VIDEO)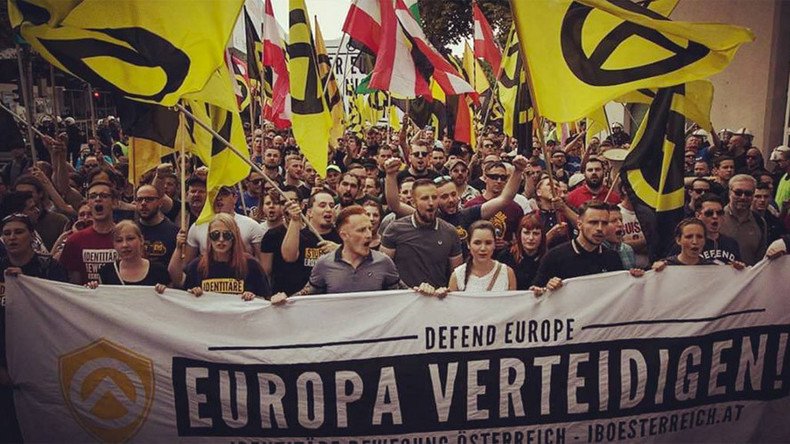 Police have deployed pepper spray against left- and right-wing activists who clashed in the Austrian capital of Vienna. The intense fighting involving stones, firecrackers and even iron rods resulted in 13 injuries, four of these to police officers.
The demonstration, organized by the Identitarian Movement, an Austrian far right group often described as racist and Islamophobic, gathered at least 1,000 participants on Saturday, according to police estimates.
The right-wing members said they were against the influx of refugees in Austria. According to the group's co-founder Martin Sellner, Austria has become "a hotspot for international terrorism" and it has "a huge problem with Islamisation."
"In Vienna you don't recognize your own city anymore. You don't hear one German word on the streets. And the situation got really worse and worse during the refugee crisis. And that's why the Austrians are waking up, joining our movement and taking to the streets," he told Ruptly.
The group of protesters was soon met with a counter-demonstration of nearly 1,000 left-wing supporters, who tried to block the demo. They threw stones, bottles and even iron rods at far-right supporters, police said in a press release.
READ MORE: Vienna's far-right activists hand out pepper spray to women for self-defense (VIDEO)
Firecrackers were also seen at the scene of the fighting, according to local media. Die Presse newspaper reported that potatoes were also used as missiles.
At least 1,000 police officers were deployed at the scene. They had to use tear gas against both groups of protesters. One member of the Identitarian movement was detained for alleged neo-Nazi propaganda and at least seven members of the counter demonstration were arrested for violence.
Thirteen people were injured in the clashes, including four officers, police said. Later law enforcers released a photo of a rock thrown at one of the officers. "No comments. Our colleague was hurt with this stone," they wrote on Twitter.
"We are often, especially now, between politically opposite interest groups. Above all, one thing is clear - the police are committed to protect neither 'right' nor 'left', but rather to protect the fundamental right to freedom of assembly," they added in the press release.
The Identitarian Movement is affiliated with the Freedom Party of Austria, a right-wing populist political party gaining popularity in the country. Its representative Norbert Hofer was narrowly defeated in the 2016 presidential elections. Official results showed the party's candidate lost by less than one percentage point.
You can share this story on social media: