Russia's defense chief meets Iranian, Syrian counterparts during Tehran visit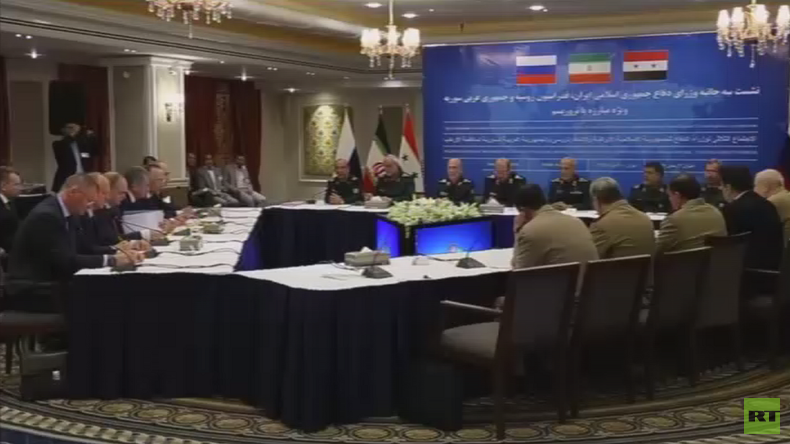 Russia's defense minister held a series of meetings with his Syrian and Iranian counterparts in Tehran to discuss counter-terrorism activities and security initiatives that would prevent jihadists from conducting wider operations in the region.
In trilateral consultations with Syrian Defense Minister Fahd Jassem Freij and Iran's Hossein Dehghan, Sergey Shoigu discussed priority measures to strengthen cooperation in the fight against Islamic State (IS, formerly ISIS/ISIL) and Jabhat al-Nusra terrorist groups, the Russian Defense Ministry said.
According to Iranian state television, which quoted Dehghan, the three ministers agreed to conduct "decisive" war against "all terrorist groups." At the same time, the trio also agreed that a "comprehensive ceasefire" and humanitarian aids is vital in establishing firm peace in Syria.
"We agree to a guaranteed ceasefire that doesn't lead to the strengthening of terrorists in this country," Dehghan said, adding that diplomatic efforts to bring peace to the country must continue.
The defense chief were also able to discuss "supporting the Syrian army forces" and set a "mutual program and specified priorities" in the fight against terrorism.
During the trilateral talks, the ministers decided to first of all focus on "blocking or preventing" material and weapons flows from foreign entities into the hands of internationally-recognized terrorist groups. Halting such support, Dehghan said, would prevent the jihadists from conducting "wider operations."
"We made decisions for what must be done on the regional and operational levels in an agreed upon and coordinated manner," the state television website quoted Dehghan as saying. "The terrorists and their supporters must know that the group fighting against them is determined to support this route until the end and will do so."
Apart from the trilateral talks, Shoigu also managed to hold bilateral meetings with his counterparts where the Russian defense minister touched on regional security issues, as well as military and technical cooperation between the states, the Russian MoD added.
While in Tehran the Russian general also met with the secretary of Iran's Supreme National Security Council, Ali Shamkhani. In that meeting, Shamkhani thanked Shoigu for the "courageous actions and policies of Russian President and his effective support in the comprehensive fight against terrorism in Syria."
You can share this story on social media: