'Institutional racism' to blame for hate crime spike in Germany – Amnesty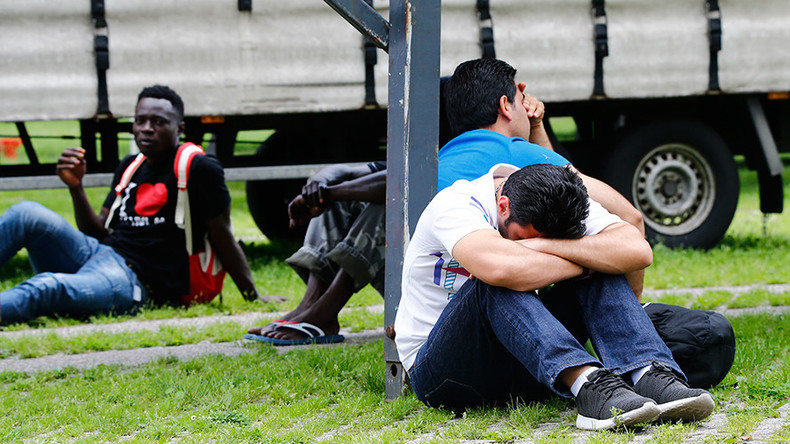 Germany faces a sharp increase in hate crimes targeting refugees, Amnesty International reported, blaming the trend on "institutional racism" that flourishes in the ranks of the police and other judicial authorities.
"With hate crimes on the rise in Germany, long-standing and well-documented shortcomings in the response of law enforcement agencies to racist violence must be addressed. [The issue] has taken on particular urgency in light of the rise in hate crimes linked to the large scale arrival of asylum seekers during 2015," Marco Perolini, EU Researcher for the human rights group, claims in the report published on Thursday.
The report states that the number of hate crimes in the country is rising because police fail to respond to them accordingly and on time, while the latter points to the existence of a broader problem of institutional racism within the German judicial system.
"There are many factors that point to the existence of institutional racism with German law enforcement agencies. This question needs to be asked, and it needs to be answered: real improvement in how law enforcement agencies tackle racist crime cannot happen unless those very agencies are prepared to examine their own attitudes and assumptions," Perolini stressed.
Amnesty claims that even prior to last year's influx of refugees, German authorities failed to adequately investigate, prosecute and sentence people for racist crimes. A small neo-Nazi cell, the National Socialist Underground (NSU), responsible for the deaths of nine refugees and a German policewoman between 2000 and 2007, has been presented by Amnesty as an example of such shortcomings.
Amnesty discovered that during the investigation police officers in charge repeatedly failed to identify and follow up on the leads that hinted to a racist motivation for the murders, while dealing with relatives of the deceased with suspicion. As a result, the cell operated undetected for almost a decade.
"In all these years, they never treated us as victims," Yvonne Boulgarides, the wife of one of the men killed by NSU, told Amnesty.
"We were always treated as suspects by the police or politicians, as if we were hiding something. Nobody asked us about our opinions or listened to us," she complained.
Police failures with the NSU case led to an internal investigation, and a number of recommendations were given to and implemented by the German law enforcement authorities. Still, Amnesty notes the problem of the institutional racism is far from being resolved.
"Shortcomings in the response to hate crimes remain. There continue to be cases where police officials do not carry out effective, prompt, adequate and thorough investigations into allegations of racist violence […] or record possible racist motives in the early stages of investigations.
The need to review how German police authorities deal with hate crimes is long-standing," Perolini states, noting that all the named failures are linked to the fact that the German judicial system and frontline police officers in particular lack instructions in identifying racist motives behind the crimes investigated. The Amnesty report recommended that Germany set up an independent public inquiry to look over how police classify and investigate hate crimes.
In response to Amnesty's report German Justice Minister Heiko Maas said his ministry would carefully evaluate the findings and determine what actions need to be taken.
"One thing is clear - a state under the rule of law can never accept racist violence. We need to do everything we can to quickly catch the perpetrators and rigorously punish them," he said in an emailed statement, as cited by Reuters.
Despite the German government being arguably the most welcoming to refugees in the EU, not all citizens share the hospitality enthusiasm. Six anti-refugee demonstrations a week took place in the country throughout 2015, and several refugee shelters were set ablaze. According to Amnesty, violent racist crimes in the country have soared some 87 percent between 2013 and 2015 while crimes targeting shelters for asylum-seekers have risen sixteen-fold during the same period, from 69 in 2013 to 199 the next year, skyrocketing to over 1,000 in 2015, according to Reuters citing data from the country's Interior Ministry. Thomas de Maiziere, German Interior Minister, recently said these figures are expected to rise further in 2016, with 347 attacks registered in just the first three months.
You can share this story on social media: