Netanyahu arrives in Moscow for talks with Putin (VIDEO)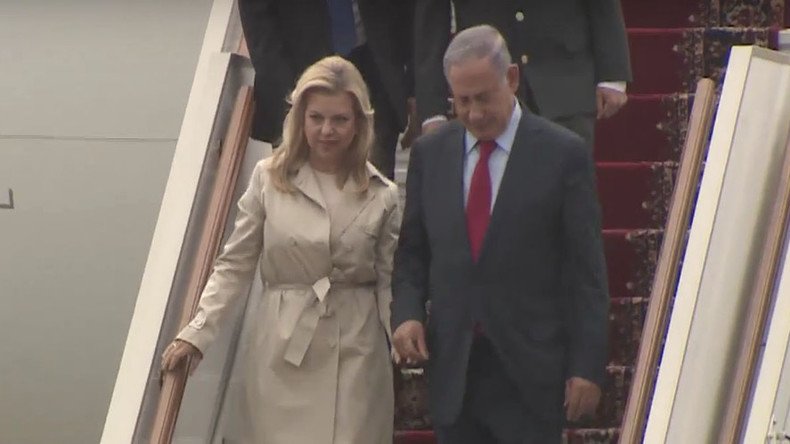 Israel's Prime Minister Benjamin Netanyahu has arrived in Russia for talks with President Vladimir Putin. The leaders reportedly plan to discuss the conflict in Syria and the prospects for settling the Israeli–Palestinian conflict.
Netanyahu, accompanied by his wife Sara, arrived at Vnukovo II airport on Monday to the warm welcome of the honor guard waiting by the runway. The Israeli PM is also being accompanied by Immigrant Absorption Minister Zeev Elkin and Agriculture Minister Uri Ariel.
It is Netanyahu's second visit to Moscow this year, which marks the 25th anniversary of the resumption of diplomatic relations between Israel and Russia. The previous Israeli visit to the Russian capital took place in April.
Meeting with Putin on Tuesday, Netanyahu plans to discuss the implementation of positions agreed on during Netanyahu's last visit to Moscow, placing a particular focus on coordination between the Israeli military and Russian forces. Both sides are eager to abide by a so-called deconflicting mechanism put in place to assure that Russian jets can freely operate in Syrian airspace near Israel's borders.
"They will also discuss various regional issues including the global fight against terrorism, the situation in and around Syria and the diplomatic horizon between Israel and the Palestinians, as well as bilateral economic and trade cooperation and the strengthening of cultural and humanitarian ties," the Prime Minister's Office said in a statement.
Israeli and Russian leaders will discuss efforts to maintain the Syrian ceasefire brokered by Washington and Moscow in February. The two leaders will also touch base on the Israeli-Palestinian peace process, in addition to Israeli-Russian trade cooperation and cultural ties.
To mark the 25th anniversary of the resumption of diplomatic relations, Israel's delegation will inaugurate a PR campaign titled "Open the door to Israel,"designed to exhibit Israel's achievements in education, technology and culture, a large part of which can be attributable to Soviet or Russian Jews.
In addition, the Agriculture Minister is expected to sign a memorandum of understanding regarding cooperation in agriculture and advanced dairy industry technology. Jerusalem and Moscow will also sign a bilateral pensions agreement, for Soviet Jews to be eligible for a Russian pension.

Before leaving Russia for Israel on Wednesday, Netanyahu is expected to meet with members of the Russian Jewish community. The Israeli delegation will also visit a museum that is home to an Israeli Magach-3 tank that was used during First Lebanon War in 1982. Russia will soon return the armored exhibit to Israel following Netanyahu's request to Putin during his April visit.
You can share this story on social media: