'They can't live with us': Libyan PM rejects Turkey-style refugee deal with EU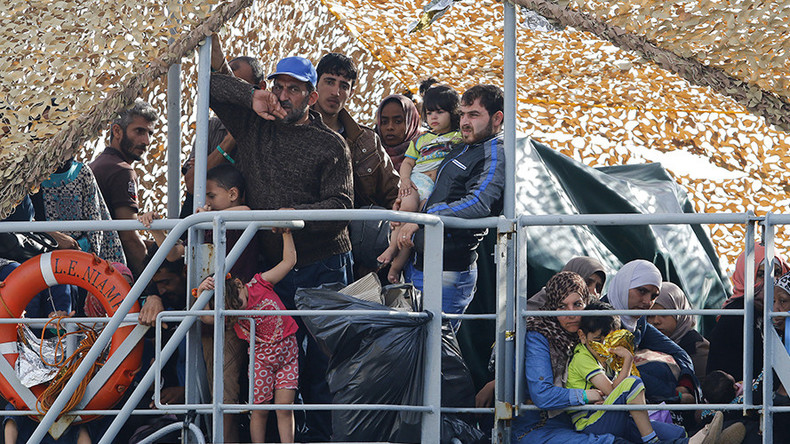 Libya's situation is different from Turkey, so the country cannot take back refugees from Europe the way Turkey is expected to, the Libyan prime minister has said. Libya is one of the major gateways through which asylum seekers go to Europe.
Europe must find a way to send refugees to their countries of origin and not suggest that Libya should take them, said Fayez al-Sarraj, who heads the so-called government of national accord, an interim body meant to guide the fractured country toward a political reconciliation.
"They cannot live with us," Al-Sarraj said in an interview with Die Welt's Sunday edition.
Sarraj was commenting on a suggestion of the Austrian Foreign Minister Sebastian Kurz, who said a deal similar to the one Brussels struck with Turkey may be agreed with the Libyan government to stem the flow of refugees. The European politician said that an alternative for such a deal is to house asylum seekers on islands, borrowing the controversial policy from Australia.
Libya, which used to have a burgeoning economy that attracted workers from the entire North African region, was devastated in the wake of the NATO-supported uprising against strongman Muammar Gaddafi in 2011. After Gaddafi's downfall, the country split into rival regions controlled by various militias. The UN-recognized government of the country had to flee the capital Tripoli, as it was seized by a rival Islamist government. Among its latest problems are the advances of terrorist group Islamic State, which is seeking to take control of the oil infrastructure around the coastal city of Sirte.
As security has deteriorated in Libya, it has become a major hub for human trafficking. Smugglers sail boats overcrowded with refugees across the Mediterranean. For many asylum seekers, the perilous journey ends tragically. In just several days in May, over 700 people drowned in three different shipwrecks south of Italy. The number of refugee deaths since January is estimated at over 1,500 by the UN.
READ MORE: Post-Gaddafi Libya's 'kind of a mess': Obama regrets counting on allies too much

Speaking of the deaths at sea, Prime Minister Al-Sarraj said he regretted that human trafficking had taken over from tourism and trade on the Libyan coast.
The EU is trying to tackle the refugee crisis by stemming the inflow. Brussels struck a deal with Turkey, another major gateway for asylum seekers, under which the country would take back people illegally arriving from Turkey to Europe. In exchange, the EU offered significant financial aid, political concessions and a pledge to take in a limited number of refugees from Turkey through legal channels.
The deal, however, is stalled as Turkey and the EU are bickering over the pledged political concessions, and in particular the conditions under which Europe would grand visa-free travel to Turkish nationals.