At least 3 dead, 9 seriously injured as passenger train rams into freight train in Belgium
Published time: 5 Jun, 2016 23:49
Edited time: 6 Jun, 2016 02:36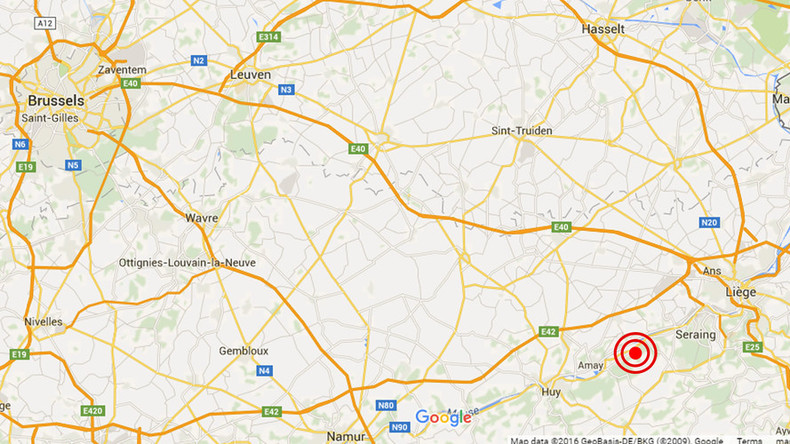 Several people are confirmed dead and dozens were treated for injuries and stress after a passenger train crashed into a cargo train in the Belgian town of Hermalle-sous-Huy near the city of Liege, badly damaging two of its cars.
A briefing with Belgian authorities, including Minister of Mobility Francois Bellot, confirmed that three people were killed in the crash, while nine were brought to a hospital for treatment, some in critical condition. Another 27 passengers received help at the site and were later allowed to go home.
The death toll could rise further, the mayor of Saint-Georges-sur-Meuse, Francis Dejon, told Belga news agency early on Monday.

The collision was extremely violent, the agency reported.
Emergency crews and police have been working at the site of the accident, which is between the cities of Liege and Namur.
"Two trains were on the same track. The passenger train crashed into the back of the goods train," a spokesman for the Belgian railway infrastructure manager Infrabel, Frederic Sacre, was quoted as saying by Reuters.
Journalists reported on Twitter that access to the crash site has been restricted and the nearby road blocked.
Local daily L'Avenir quoted a witness that described the scene as "chaos," saying that the first two carriages of the passenger train had been reduced to wreckage.
The first car is lying on its side at about a 20-degree angle, according to Lesoir.be.
Those injured the crash were brought to a local sport hall where they received psychological help, CDRI news reported.
SNCB reported earlier on Sunday that traffic signal problems had been observed in the area where the collision occurred.
"There was indeed a problem when lightning struck on Sunday night on line 125 in Engis," Sacre said, adding that maintenance workers had followed standard procedures when repairing railway signals following the strike, as cited by the Vivre Ici news site. He also said that the system had back-up battery power.
DETAILS TO FOLLOW