Turkish camp serial rapist gets 108 years for molesting Syrian children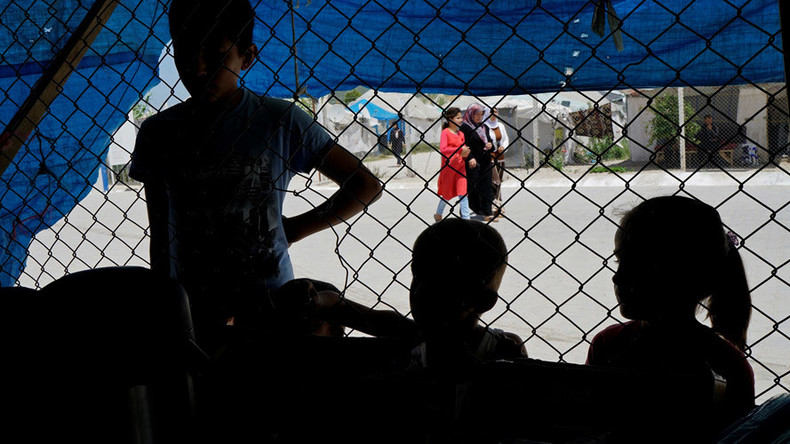 A cleaner at the Nazip refugee camp in southeast Turkey received a 108-year prison sentence for the sexual abuse of over two dozen Syrian refugee boys aged 8 to 12.
The shocking revelation came as the 29-year-old serial rapist confessed to his crimes, adding that there are other employees at the state-run camp in Gaziantep who also regularly abuse refugee children sexually.
The accused, identified as "Erdal E." in the court papers, said he had been luring the young boys deliberately into places with no surveillance cameras, near bathrooms and other common facilities. He would pay them each around 2-5 Turkish lira ($0.70-1.70) before the assaults would take place, according to the Dogan News Agency.
The kids had to endure the ordeal for a total of three months, until January 2016.
The case took off when families of eight boys the suspect had allegedly abused filed complaints, as reported by the local bar association.
The accused was on trial for eight separate crimes – one for each child proven to have been a victim – although the number raped could be as high as 30. The charge is "premeditated sexual abuse towards children, forcing minors to enter into sexual relations in a perverted form."
Erdal E. claims he was made a "scapegoat" to cover up the crimes of others and prevent a wider scandal.
"I know very well the names of many managers and camp workers guilty of abuse... but I will not say them so as not to hurt my own family," he was quoted as saying by the Hurriyet daily.
The court in the southern city of Nizip announced its ruling on Friday night sentencing the man to 108 years behind bars. According to Dogan, prosecutors had asked for a sentence of 289 years initially.
The camp is run by the Turkey Disaster and Emergency Management Authority, responsible for about one-tenth of all Syrian refugees in the country. The Nazip camp itself is home to some 14,000 refugees, and was recently inspected by German Chancellor Angela Merkel, who praised the Turkish efforts in handling the refugee crisis.
Despite the visit, Amnesty International told RT that Turkey hinted there would be no visits by the NGO, because Turkey wouldn't allow it.
"At Amnesty International, we have made repeated requests for access to the refugee camps in Turkey and the Turkish authorities have repeatedly denied us access to the camps. The reason they give is to protect the security and privacy of refugees. They have also hinted that they will never give us permission to enter the camps," Andrew Garner, a researcher for Amnesty International, told RT.