World's longest rail tunnel opens through Swiss Alps (PHOTOS, VIDEOS)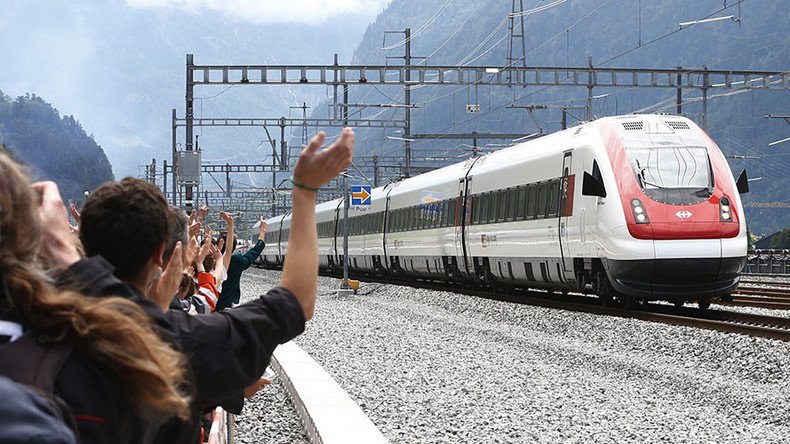 It took 17 years, €11 billion and nine lives to build it, but the Gotthard Base Tunnel has finally opened through the Swiss Alps.
The incredible record-breaking tunnel runs for 57km, under 2,300 meters of solid mountainous rock, and trains can pass along it at speeds of up to 250kph.
Designed to alleviate heavy alpine traffic and combat rising CO2 emissions, more than 300 freight and passenger trains will whisk through the tunnel each day once it becomes fully operational in December.
Construction began on the monster project in 1999 and, over the following 17 years, engineers blasted through more than 70 types of rock and excavated 31 million tons of material to construct the tunnel.
The opening ceremony drew Italian Prime Minister Matteo Renzi, Swiss Federal President Johann Schneider-Ammann, French President Francois Hollande and German Chancellor Angela Merkel who sat together in a VIP carriage for the maiden voyage of the first train through the tunnel.
The tunnel, which links the Dutch port of Rotterdam and Italy's Genoa via Germany, has been welcomed as a new symbol of European unity, Reuters reports.
Trains can speed through the tunnel in just 17 minutes, cutting travel time between Zurich and Lugano by 45 minutes to a journey that will last just under two hours.
READ MORE: High-speed 'Hyperloop' could transport passengers between 3 European cities in minutes
You can share this story on social media: