EU Commission president to urge wary EU leaders to reconfirm TTIP support
The European Commission president will ask EU leaders to reaffirm their commitment to the Transatlantic Trade and Investment Partnership (TTIP) at the European Council next month. It comes after several politicians spoke out amid tense negotiations.
"President [Jean-Claude] Juncker feels that the time has come to ask heads of state and governments of the European Union to have a new discussion on where we are and where we want to get with these negotiations," EU Commission spokesperson Daniel Rosario said in a Monday statement.
He went on to state that talks on the controversial deal are advancing and entering a crucial phase, and that EU leaders will be asked by Juncker to reconfirm their commitment to the Commission's mandate at a summit on June 28-29.
Read more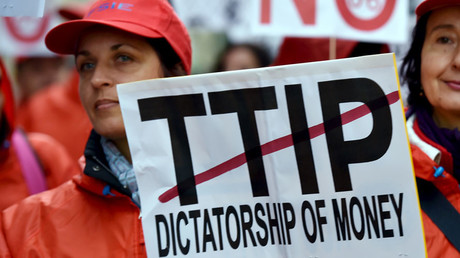 Both the Commission and Washington are aiming to conclude talks on TTIP by the end of this year, though skepticism surrounding the deal has made that goal seem highly unlikely to achieve.
Juncker has expressed frustration with EU leaders who approved the negotiating mandate in 2013 and have since become critical of the deal.
"If we are to deliver on this commitment, we have to make sure that we are all rowing in the same direction," Rosario said, stressing that Juncker believes EU leaders need to establish what they want from the TTIP talks.
European politicians have indeed expressed their hesitance towards TTIP in recent weeks, with many noting that the US seems to be the one standing to benefit most from the deal.
On Monday, it was reported that heated emails had been exchanged between the two sides amid ongoing negotiations. It came just weeks after Greenpeace leaked secret TTIP documents exposing plans for corporate takeover and dismantling climate protection.
Speaking to RT on Tuesday, Petter Slaatrem Titland, from the activist group 'Attac,' said the more the public learns about the largely secret negotiations, the more the EU will be under pressure to get a bigger deal.
"While this deal was in the back room, they were able to have negotiations in silence, but as long as the people in Europe are better informed, the EU is also pressured to have a better trade agreement which does not compensate on important rights," Titland said.
Read more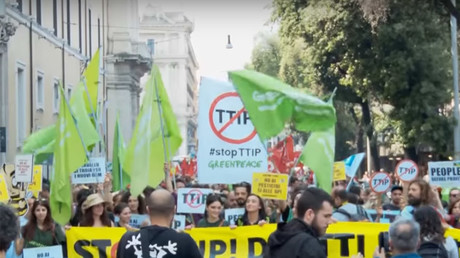 "We see with every leak TTIP is further away, and I think that says a lot of about trade agreement itself," he added.
Just days ago, German Vice Chancellor and Economy Minister Sigmar Gabriel criticized Chancellor Angela Merkel's approach towards reaching an agreement on TTIP with the US.
"It was wrong that, in the euphoria of [President Barack] Obama's visit to Germany, the chancellor said that we will be able to conclude negotiations under any circumstances by the end of this year – and that she recently repeated that statement," Gabriel said.
Earlier this month, French President Francois Hollande said that "at this stage [of talks] France says 'No'" to TTIP, adding that it goes against the country's "essential principles."
But criticism over the controversial deal hasn't just come from politicians. Anti-globalization, ecological, and consumer groups have led protests across Europe, with a recent demonstration in Hanover, Germany, attracting thousands of people to the streets.
Supporters of TTIP, including US President Barack Obama, stress that it would create the largest free-trade zone on the planet, and claim the more integrated marketplace would help small businesses by opening up markets and making customs processes easier. They also say it would reduce trade tariffs on products.
However, many Europeans say TTIP would place corporate interest above national interest, stressing that international corporations would be given power at the expense of small and medium-sized businesses. The secrecy surrounding the talks has also come under fierce criticism.
In order for TTIP to come into force, all 28 EU member states and the European Parliament would have to ratify it – a possibility which seems increasingly unlikely. Negotiations on the deal have so far consisted of 13 rounds of talks over the course of three years.